My kids love soup. However, growing up in a Chinese family, soup equates to something you drink at the beginning or at the end of a meal but never as a meal itself. Usually, the soup we drink is a broth that cleanses our bodies and helps us stay healthy. My kids were also introduced to drinking cleansing broths at my mother's house. Later on, I learned my mom's cleansing soup recipes and made them for my kids too. So my kids are growing up drinking cleansing broths like me.
When I initially introduced thicker soups as meals, my boys were flabbergasted. They thought it was weird that the soup was so thick and considered them non-soups. As a mom, I would keep on making foods that my kids originally rejected hoping that they would eventually respond well to them. After making my Roasted Butternut Squash Soup a few times along with bribing them with my Grilled Cheese Sandwiches (Finish the soup first, THEN you can have the grilled cheese!), they slowly opened themselves up to drinking or eating soup that is less brothy.
So when I made this Bacon Potato Leek Soup, they were in heaven. They declared that it was the best soup I ever made. I concluded when you add bacon to any food, kids would eat them. I dedicate this Memorable Dish to all the moms with kids who claim to have aversions to certain foods but eventually embrace them. (Yay for moms due to their nagging, I mean persistent effort!)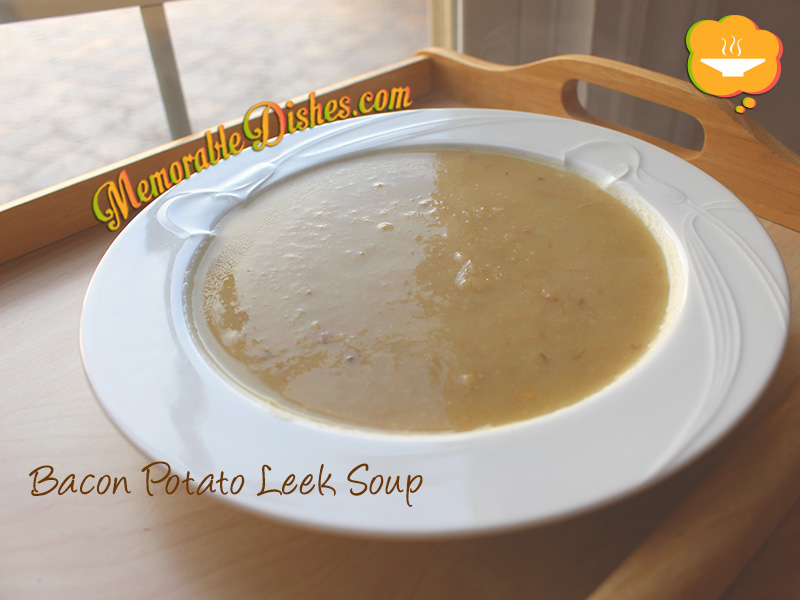 Ingredients
3-4 Leeks, white and light green parts only, roughly chopped (approximately 6 cups)
2 lbs Potatoes (Yukon gold or Russet), peeled, diced into 1/2 inch pieces
6 cups Chicken Stock
1 cup Smoked Bacon, small dice
1 Bay Leaf
Salt & Pepper to taste
Preparation
In a large pot, brown the smoked bacon. (You could add a bit oil to render the fat if you want to but not necessary.)
Strain the bacon and leave 1 tbsp of bacon fat in the pot.
Add the leeks to the pot and cook them until softened (approx. 5 min).
Add potatoes, bacon, stock and bay leaf. Bring to a boil and cook until potatoes are softened (approx. 15 min).
Turn the heat off.
Use an immersion blender to blend until smooth.
Bring the puréed soup to a boil.
Add salt and pepper to taste.
Notes
Note #1: Clean the leeks thoroughly by cutting off the top and dark green parts. Then cut the leek in half, lengthwise and rinse out any dirt in between the leek
Note #2: If you don't have smoked bacon, just use a few slices of regular bacon.
https://www.memorabledishes.com/bacon-potato-leek-soup/
Recipe by Memorable Dishes | www.memorabledishes.com