This Waldorf Potato Salad is one of my mom's Memorable Dishes that she often made for us when we were children. It was also one of her favourite dishes to make for potlucks at our house or to bring to someone else's home. Every time I think of this salad, I think of potluck parties with our family friends. Maybe my memory is a bit fuzzy but I always equate this salad, along with the Tomatoes Stuffed With Ham Salad, with mahjong parties.
Waldorf salad is generally made of apples, celery and walnuts, mixed in with mayonnaise. My mom used potatoes, eggs and ham in it. But I don't remember her using celery. Maybe because we didn't like them as kids or it wasn't readily available in Hong Kong at the time.
My favourite part when eating this salad was biting into the sweet crunchy apples. My mom used to peel the apples so it was hard to tell whether we were biting into potatoes or apples after the mayonnaise was mixed in with it. It was always a nice surprise when I crunched into the juicy flesh of the apples. I love making and eating this Memorable Dish because it always brings back sweet memories of potluck parties and playing with my parents' family friends' kids.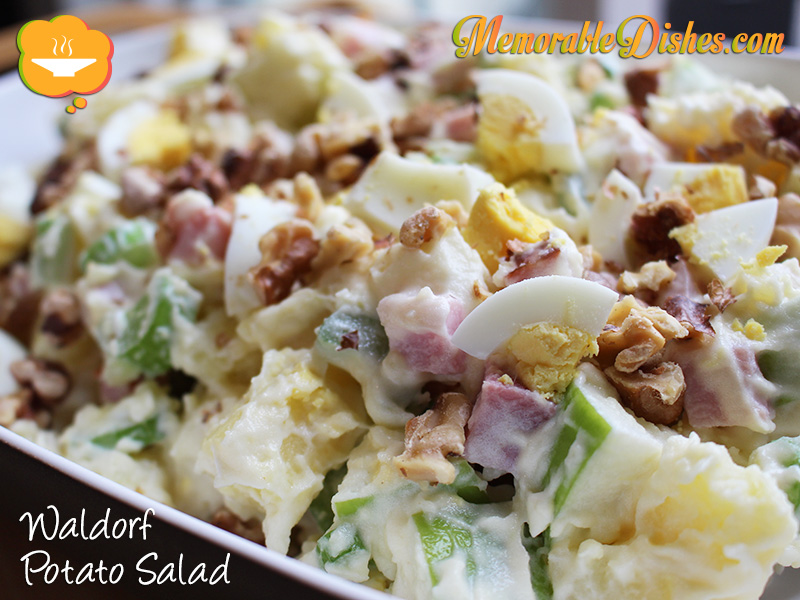 Ingredients
6 cups Potatoes, cubed
2 cups Apples, cubed (I used Granny Smith.)
2 Eggs, hardboiled
1 tbsp Lemon Juice
1 cup Celery, diced
1 cup Ham, diced
1 cup Mayonnaise
1/2 cup toasted Walnuts
Salt & Pepper to taste
8 cups Water (or enough to cover the potatoes)
1 tbsp Salt
Preparation
Bring water to a boil, then add salt.
Put potatoes in salted water and boil until tender (approximately 10-15 minutes).
Drain potatoes and run them in cold running water.
Mix apples with lemon juice to prevent them from browning.
In a large bowl, mix the potatoes, apples, hard-boiled eggs, celery, ham with the mayonnaise
Add salt & pepper to taste.
Top with toasted walnuts.
Notes
Note #1: Use waxy potatoes (they are thin-skinned), such as red or new potatoes.
Note #2: My mom used to peel both the potatoes and apples. I peeled my potatoes but left the skin on the apples for colour.
https://www.memorabledishes.com/waldorf-potato-salad/
Recipe by Memorable Dishes | www.memorabledishes.com