Curry fish balls is a quintessential street food I had growing up in Hong Kong. I remember the little vendor carts that sell them on the street. For a dollar a skewer (I think that was the price), my older brother and I would buy them as snacks after school. Even the elementary school I attended had a curry fish ball station at their snack bar! As soon as a vendor opens the bubbling curry fish balls, my mouth begins to water. I always admired how fast the service was even though there were so many people lining up. Holding the skewer in one hand, tongs in another and in lightening speed, the vendor puts the fish balls one by one with quick precision onto the skewer. All the fish balls line up perfectly in the middle of the skewer squished next to each other.
Nowadays, they don't have food carts on the streets of Hong Kong anymore. They have these food stores/stations that are opened to the outside and you can purchase your curry fish balls there along with other street foods. We can also get them at Chinese food courts and malls where I live in Canada because we live in a highly populated Chinese area. Even when my cousins come visiting from the States, they search for this simple yet delicious street food.
Curry fish balls is not something you would normally eat at home because it's a street food. I started making curry fish balls at home because I always have leftover sauce from my Portuguese Curry Chicken. I hate that it goes to waste so I soak fish balls in my leftover curry sauce. This Memorable Dish might be simple to make but it triggers lots of childhood memories growing up and eating in Hong Kong. This is a great potluck dish too. I went to a potluck one time and a lady brought curry fish balls in a slow cooker. What a great idea!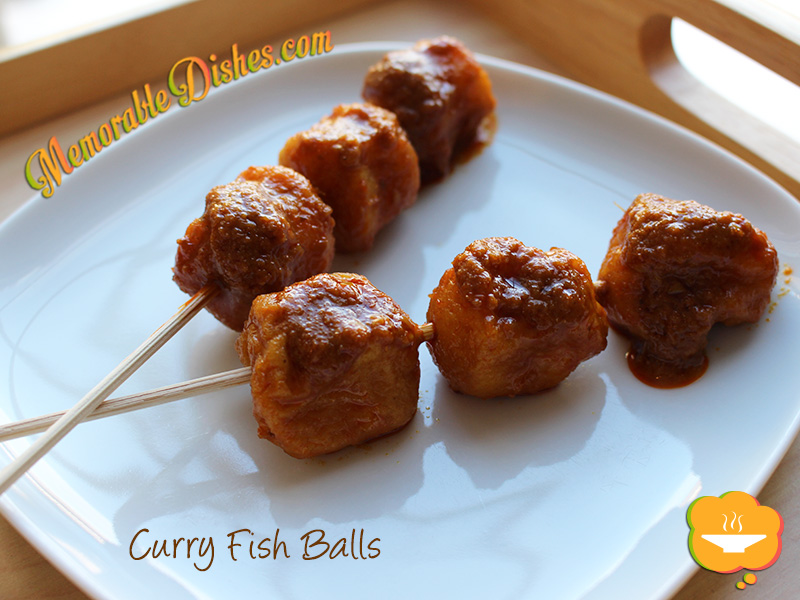 Ingredients
1 package of Fish Balls
1 pack of your favourite Curry Paste or leftover curry sauce
Water (if you're using curry paste)
Preparation
Prepare the curry paste according to the package of the paste. You'll need to add water to dilute it.
You want the fish balls to adhere to the sauce, so the consistency shouldn't be too thin.
Bring the curry sauce to a boil and then add the fish balls.
Simmer in slow heat for approximately 15-20 minutes.
https://www.memorabledishes.com/curry-fish-balls/
Recipe by Memorable Dishes | www.memorabledishes.com