Even before it was politically incorrect to eat shark fin soup, I've always liked the fake version better. Maybe it was the extra MSG or maybe I was super hungry. But this is one of my favourite Memorable Dishes eaten on the streets of Hong Kong as a child. My older brother and I ate this on the streets after swimming. The street vendor had his (probably unlicensed) cart outside of the public swimming pool waiting for hungry post-swimming patrons. He definitely knew who his target audience was! I, like everyone else gets super famished after swimming, that's why the street imitation shark fin soup was especially tasty and delicious.
When I found this hawker (street vendor) Memorable Dish at T&T (Chinese grocery store chain in Canada), I couldn't believe it! I hadn't eaten this soup in so long and when I discovered it, I was super ecstatic. It was still piping hot from its container when I brought it home. I devoured it and thought of my famished self after swimming in Hong Kong when I was little.
When researching for this recipe, I found a couple of versions. One where they use crab meat and store-bought imitation shark fin and another where shredded chicken, pork, and cellophane noodles are used. I adapted my recipe from both of these versions.
Eating this Memorable Dish brought back vivid memories of when my dad took my older brother and I swimming. Every time we went swimming, I looked forward to eating this hot soup filled with yummy goodness. After rediscovering this dish at the supermarket, I knew it wasn't just about childhood memories. I genuinely enjoyed this dish! The texture of the crunchy black fungus and the meaty goodness soup warms up my mouth and enters into my soul.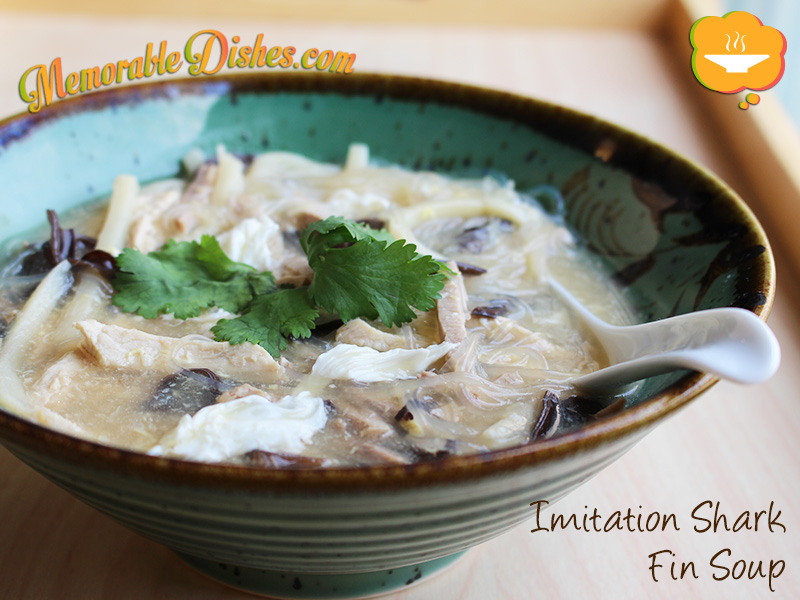 Ingredients
1 cup Imitation Shark Fin or Cellophane Noodles
1 1/2 cup poached Chicken Breast, shredded
1 1/2 cup poached Lean Pork, shredded
1 cup reconstituted Dried Black Fungus (木耳) thinly sliced (see Note #1)
1 cup canned Bamboo Shoots (strips)
1 Egg
6 cups Chicken Broth
Cornstarch Solution (combine 2 tbsp cornstarch with 4 tbsp water)
¼ cup Soy Sauce
Salt to taste
Dash of White Pepper
Dash of Black Vinegar
Coriander or sliced green onions for garnish (optional)
Preparation
If you are able to find imitation shark fins, blanch them by pouring boiling water over it and leaving it covered for about 5 minutes. Discard water, drain the fins and set aside.
Bring chicken broth to boil in a pot. Add sliced black fungus and bamboo shoots, and simmer for about 5 minutes.
Add chicken, pork and blanched shark fins (if using). Bring to a simmer for another 3 minutes.
If using cellophane noodles only, put them at the very end because it cooks super quick.
Before using cornstarch solution, stir again to dissolve mixture. Slowly pour in the cornstarch solution while stirring until you reach the consistency desired. Add soy sauce and season with salt to taste.
Lastly, slowly pour beaten egg to the soup mixture. Turn off heat.
Dish the soup into serving bowls. Garnish with coriander or sliced green onions (if using). Put dash of white pepper and black vinegar to taste.
Notes
Note #1: Use approximately 4 medium size black fungus. It really depends on how big your black fungus is. Soak the black fungus in hot water to soften. Cut around and discard the hard part. Then slice the fungus into thin strips. If you are unable to find black fungus or don't want to use them, you can use shiitake mushrooms instead. The texture will be different since black fungus is crunchy and the shiitake mushrooms are soft.
Note #2: Poach the chicken and pork in water and you can use the poaching liquid as part of your broth.
Note #3: For thicker soup, add more cornstarch solution. For a thinner soup, don't add as much solution.
https://www.memorabledishes.com/imitation-shark-fin-soup/
Recipe by Memorable Dishes | www.memorabledishes.com