If you go apple-picking like our family does every Fall, you probably end up with a huge bag of apples that costs more than it would buying from the store. But our kids love it so we do it. (Ok, maybe I like it too 🙂 .) If you're sick of eating those apples day after day, this recipe is perfect for you.
I've been using this recipe to make apple muffins when we have lots of leftover apples from apple picking. Surprisingly, this year I hardly had any apples left! We ate some and gave some away. But it seemed as if our pile of apples dwindled faster than I could make my muffins! (I usually make at least 2 batches.) I think the kids are growing and consuming more 😛 .
Of course you can bake these apple muffins anytime you want and not just wait for a surplus. As usual, I used less sugar than the original recipe called for because I find most baked goods recipes too sweet. With the brown sugar sprinkled on top, it's the perfect sweetness combined with a bit of tartness from the apples. This Memorable Dish is so great for breakfast or a snack.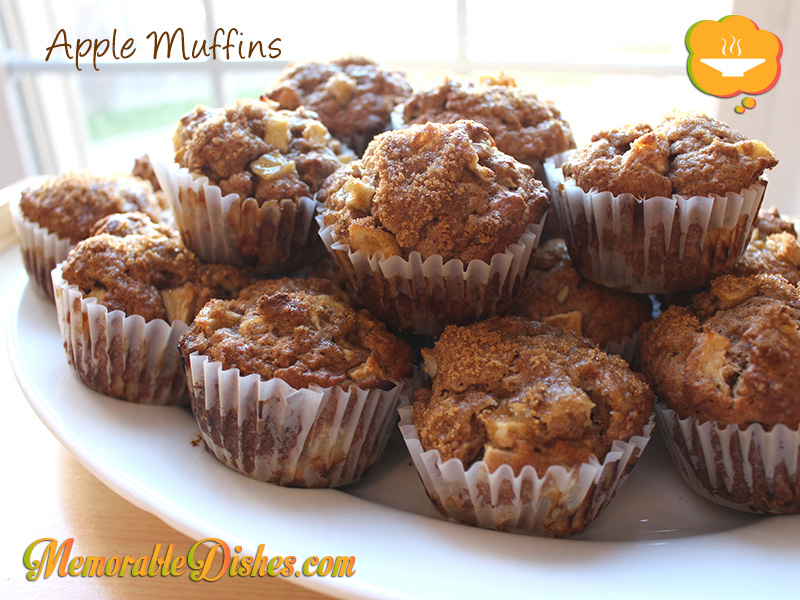 Ingredients
1 cup Whole Wheat Flour
1 cup All-purpose Flour
1 tsp Baking Powder
1 tsp Baking soda
1/4 tsp Salt
1 tbsp Cinnamon
1/4 cup unsalted Butter, at room temperature
1/4 cup Coconut Oil
1/4 cup Granulated Sugar
1/2 cup Dark Brown Sugar, packed, divided
1 large Egg, lightly beaten
1 cup (8 ounces) Buttermilk or Yogurt
2 large Apples, peeled, cored, and coarsely chopped (approx. 4 cups)
Preparation
Preheat the oven to 450°F.
Line muffin pan with baking cups.
Mix together the flours, baking powder, baking soda, salt, and cinnamon, and set aside.
In a separate bowl, cream the butter and coconut oil.
Add the granulated sugar and 1/4 cup of the brown sugar.
Beat until fluffy. Add the egg and mix well; stop once to scrape the sides and bottom of the bowl.
Mix in the buttermilk/yoghurt gently. (If you over-mix, the buttermilk/yoghurt will cause the mixture to curdle.)
Stir in the dry ingredients and fold in the apple chunks.
Divide the batter evenly among the prepared muffin cups, sprinkling the remaining 1/4 cup brown sugar on top.
Bake for 10 minutes, turn the heat down to 400°F, and bake for an additional 10 minutes, or until a toothpick inserted into the center of a muffin comes out clean.
Cool the muffins for 5 minutes in the tin, then turn them out onto a wire rack to cool completely.
Notes
https://www.memorabledishes.com/apple-muffins/
Recipe by Memorable Dishes | www.memorabledishes.com