At one time or another we have overripe bananas that we don't know what to do with. Hence, a lot of us have our go-to banana bread recipes that we use to make leftover bananas into something delicious. This one is my all-time favourite banana bread recipe. I originally found this recipe online but have adapted it to our family's taste. Since I make this for the kiddies as a snack, I try to use healthier ingredients such as coconut oil and whole wheat flour. However, if you don't like the taste of coconut oil or whole wheat flour, you can use butter and all-purpose flour instead.
I find that even if I use coconut oil and whole wheat flour, it's a very tasty bread. You can also use half of the healthier ingredients and another half with not so healthy ingredients. I've tried all combinations of healthy and not so healthy ingredients and the results are pretty similar.
The boys enjoy making this Memorable Dish with me because they get to sneak chocolate chips in their mouths here and there as I'm making it. Of course they enjoy licking the coveted spatula, whisk, spoon and bowl with the leftover batter. As soon as I start making banana bread, my second son brings his little chair to prop himself up to help me.
Sometimes I make this into a loaf or sometimes into muffins. So I include the recipe for both. You just have to adjust the baking time a bit. If you have a good banana bread recipe, please share. I'm always trying to find new ways to make old favourites.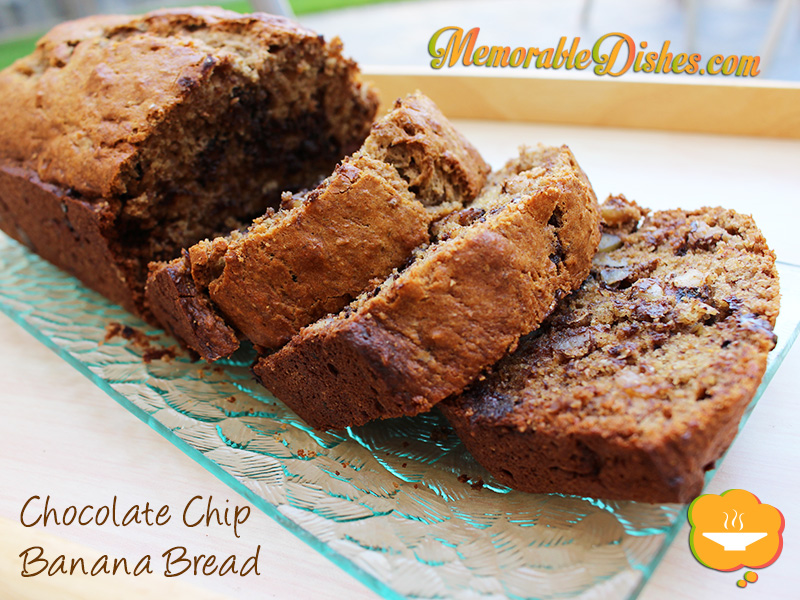 Ingredients
2 large or 3 medium sized peeled Bananas (very ripe)
1/3 cup melted Butter or Coconut Oil
1/3 cup of Sugar
1 Egg, beaten
1 tsp Vanilla Extract
1/2 cup semi-sweet Chocolate Chips
1 cup toasted chopped Walnuts (optional)
1 1/2 cups of all-purpose or whole wheat Flour
1 tsp Baking Soda
1/2 tsp of Cinnamon
1/8 tsp Salt
Preparation
Preheat oven to 350°F.
Butter the 4x8 inch loaf pan or line 12-cup muffin pan with paper liners.
In large bowl, whisk flours, baking soda, cinnamon and salt.
In another bowl, mash bananas with a wooden spoon or whisk.
Add melted butter/coconut oil, sugar, egg and vanilla extract to the mashed bananas to combine.
Then mix in chocolate chips and walnuts (if using).
Pour the wet ingredients into the dry ingredients. Mix the batter but don't overmix (use a fork if you need to). Pour batter into loaf pan or muffin cups.
Bake until loaf or muffins are puffed and wooden pick inserted into center comes out clean, about 20-30 minutes for muffins and 45 minutes to 1 hour for loaf.
Cool for 5 minutes in the pan before taking it out. Continue cooling it on the rack until it's cool enough to eat.
Notes
You can freeze overripe bananas to be used later. Make sure it's fully defrosted when making the banana bread.
https://www.memorabledishes.com/chocolate-chip-banana-bread/
Recipe by Memorable Dishes | www.memorabledishes.com