Recently my mom mentioned to me how she used to make these mini fruit cheesecakes for us. We had already moved to Canada by then and were in our teens except for my much younger brother. Back in the day when one couldn't trade recipes by email, my mom would often write her recipes on pieces of paper on hand. (She continues to write recipes on pieces of paper that were lying around because she doesn't use computers.)
When I asked my mom for the recipe, she handed me this folded and wrinkled piece of paper. This particular recipe was written on the back of a children's menu where my mom used to work. The kids' meals were between $2.95 to $3.95. Each meal came with a beverage, choice of sides and a small sundae. (You could imagine how old this recipe was.) A co-worker of hers brought these mini cheesecakes to work and my mom, as curious about new foods as always, asked her for the recipe. Since then, she has been making them for our family on many occasions. I even remember my cousin used her recipe and made these yummy cheesecakes for us too.
Then I thought to myself, "Yeah! My mom used to make these for us all the time! Why hasn't she made it in awhile?" I remember getting very excited about these colourful fruity mini cheesecakes when she used to make them. I decided to transfer her paper recipe into electronic form hoping that my little ones get as excited as we were when we had this Memorable Dish.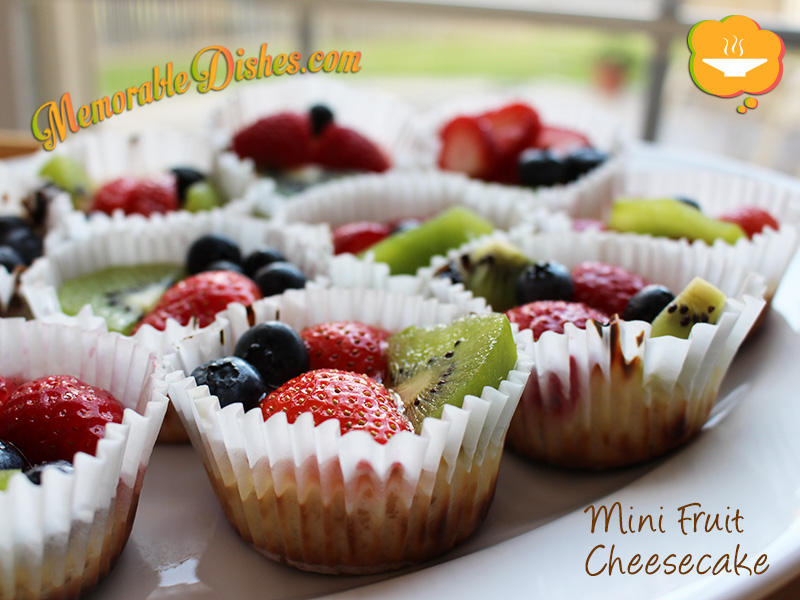 Ingredients
2 packs light Cream Cheese (250 grams each)
2 Eggs
1/2 cup Sugar
1 tsp Vanilla Extract
Fruits, sliced (Strawberries, Blueberries, Kiwis, etc.)
2 packets unflavoured Gelatine (each packet is equivalent to 1 tablespoon)
2 cups Apple Juice
24 Vanilla Wafers
Preparation
Beat cream cheese until smooth, add 1 egg and 1/4 cup of sugar at a time. Then add 1 teaspoon of vanilla extract until everything is mixed together.
Line two 12-cup muffin pans with cupcake liners. Put vanilla wafers on the bottom of each cup.
Fill each cup with about 1 tablespoon of cream cheese first and then distribute the rest evenly.
Bake at 350°F for 20 minutes.
Wait until it's cooled, then top the mini cheesecakes with fruit.
In a small pot, mix the apple juice with the gelatin. Whisk and boil at medium heat until the colour turns clear.
Cool the glaze for 1 minute. Spread the glaze on top of the fruit with a pastry brush or small spoon.
Refrigerate to cool completely.
Notes
Note #1: You can also find unflavoured gelatine from the bulk food store.
Note #2: If you are short on time, bake cheesecake cups a day ahead and top fruit and glaze the same day of serving.
https://www.memorabledishes.com/mini-fruit-cheesecake/
Recipe by Memorable Dishes | www.memorabledishes.com