When I was growing up my mother often made this Memorable Dish for us. Now as a mother myself, this simple dish has become a staple at my house as well. When I run out of time or don't know what to make for dinner, I prepare Stir Fry Shrimp with Eggs. We always have eggs and we always have frozen shrimp in our freezer. Of course it's tastier to use fresh shrimp but we don't live near the ocean and frozen shrimp is the next best thing. It's still mighty tasty though.
Eggs are considered to be a simple and humble dish. However, when you add shrimp it jazzes it up to something wonderful. This homestyle dish is so versatile and popular that it also appears on Chinese restaurant menus.
Requested by my boys who love shrimp and seafood, my mother has continued the tradition of making this Memorable Dish for her grandkids. Stir Fry Shrimp with Eggs make an appearance at my mom's Sunday night dinners quite often 🙂
I know lots of people resort to eggs for an easy to make dinner. Add this to your repertoire and give this quick but yummy Memorable Dish a try!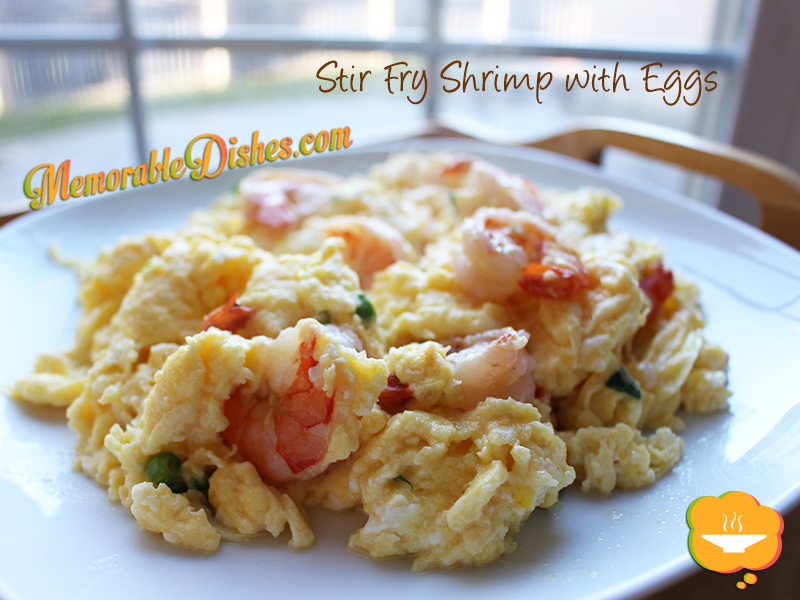 Ingredients
1/4 pound Shrimp, peeled and deveined
1/4 tsp Sesame Oil
1/8 tsp Kosher Salt
Dash of White Pepper
8 large Eggs, beaten
2 tbsp Water
1/2 tsp Kosher Salt
1 sliced Green Onion for garnish (optional)
1 tbsp Vegetable Oil
Preparation
In a bowl, mix sesame oil, salt and pepper with the shrimp.
In a larger bowl, gently beat the eggs with 2 tbsp of water. Then add the 1/2 tsp of salt and mix.
Heat 1 tbsp of oil in a non-stick wok or large frying pan.
Stir-fry shrimp in the wok and cook until they just turn from translucent to slightly opaque.
Then add the egg and gently mix and flip the egg using a spatula.
Mix in the green onions (if using). Be sure not to brown the eggs.
Cook until all the eggs are done but slightly runny and fluffy.
https://www.memorabledishes.com/stir-fry-shrimp-with-eggs/
Recipe by Memorable Dishes | www.memorabledishes.com