Yeung Chow Fried Rice derives from the city of Yangzhou, Jiangsu province of China. I believe it's one of the most popular Cantonese rice dish in the West. In every Chinese restaurant, there is Yeung Chow Fried Rice on the menu. Who wouldn't love it? It has a taste of everything—bbq pork, shrimp, eggs and veggies.
If you ask my husband what his favourite Chinese food is he would definitely say, "Yeung Chow Fried Rice!" Every time we go to a Chinese restaurant, he wants to order Yeung Chow Fried Rice. When he heard that I was making this for the blog, he was disappointed that he wouldn't be able to taste this Memorable Dish because he had to fly out for work. I told him I was going to save him some if the boys hadn't devoured it all.
The kiddies also love Yeung Chow Fried Rice. Actually they love eating any type of fried rice. I think the crispiness of the rice combined with the meat and vegetables give their mouths a sensation overload that they enjoy. They can eat bowls and bowls of it! When they eat fried rice, they are like little machines scooping big mouthfuls at a time into their mouths.
You can easily make this Memorable Dish right in your own home. Either buy Chinese BBQ Pork from the Chinese BBQ shop or major Chinese grocery store. If you have time, make your own Chinese BBQ Pork from my recipe. Frankly, I think it tastes better when you make this fried rice at home. I find that restaurants skimp out on the ingredients and the meat to rice ratio is too low. I'll bet you can't just eat one bowl of this yummy fried rice 😉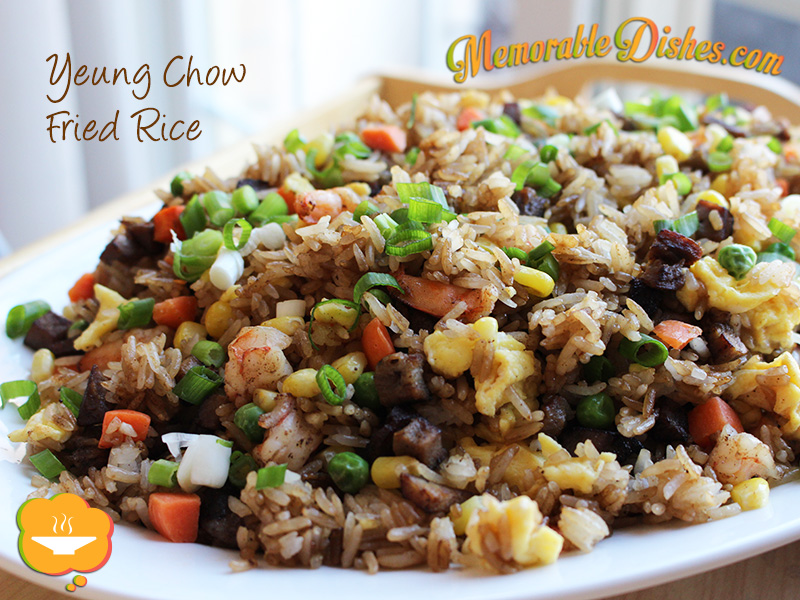 Ingredients
5 cups of day-old Cooked Rice (2 cups of uncooked rice)
2 cups of Chinese BBQ Pork (Char Siu), diced
1/2 cup of Shrimp, diced
2 cups of frozen Peas, Carrots, Corn (thawed)
3 large beaten Eggs
Vegetable Oil (1 tsp for eggs, 1 tsp for bbq pork and shrimp, 3 tsp for rice)
1/2 tsp Salt
1 tsp Garlic Powder
1/4 cup low sodium Soy Sauce
1 sliced Green Onion for garnish
Preparation
Heat 1 tsp of oil in a non-stick wok or large frying pan.
Scramble the eggs and set aside.
Using the same wok, heat 1 tsp of oil and fry up the bbq pork until it's lightly brown. Then add the shrimp to the pork and cook until shrimp just turn pink. Set aside.
Heat 3 tsp of oil and stir fry the rice until it's heated through.
When the rice turns a bit crispy, add the salt, garlic powder, and soy sauce.
Stir fry the rice a bit more until the soy sauce is mixed in the rice.
Put the pork, shrimp, eggs, and vegetables with the rice.
Stir fry all the ingredients until they are evenly mixed.
Garnish with sliced green onions.
Notes
If you don't have any day-old rice, cook the rice and cool it in the fridge before making the fried rice for best results. Basically, the rice has to be a bit on the dryer side.
https://www.memorabledishes.com/yeung-chow-fried-rice/
Recipe by Memorable Dishes | www.memorabledishes.com