Chicken (Kokoshka) With (Sou) Rice (Oris) is one of my favourite Memorable Dishes from my husband's family. When we first started dating, this is one of the dishes I had at my in-laws. It's not a fancy dish by any means but I really enjoyed eating it every time. Even though we are from totally different backgrounds (me being Chinese and him being Macedonian), we find that lots of our values are very similar. Our family's love of food is definitely one of them. Yes – I consider that a value! I always say to my husband, "Thank goodness you like to eat and try new foods as much as I do!" I believe our relationship has lasted because we share the same value for food 😉
When we got married, my mother-in-law bought me the "official" Macedonian recipe book. It's a plastic-coiled bound book with a red cover that says, "Traditional Macedonian Recipes." Mine is a revised edition with 40 additional recipes. It seems like everyone in the Macedonian community has one version or another. The book also includes a bit of Macedonian history and a map, which is very interesting to me. I also love that in each section, there's a little anecdote that talks about the recipes and the importance of them to the Macedonian community.
The first time I cooked this dish from the recipe book, it didn't turn out the same as my mother-in-law's. When I told her about my blunder, she looked at the recipe and said that it wasn't the same way she cooked this dish. This reiterated the line that I read from the cookbook, "In collecting the recipes, we did not find two women who made the same dish in exactly the same manner." Go figure!
I find it very comforting when cooking this recipe. The smell of chopped onions, celery and carrots permeates my nose and into my mind. Even though I have never been to my husband's Macedonian village before, I could picture hardworking mothers taking care of their families and cooking up a nice meal after a hard day's work at the farm.
I used the Macedonian cookbook's recipe as a base and adjusted the way I cook it for my family. The kids gobble up this dish every time I make it. Lovingly, they really enjoy this Macedonian dish made by their Chinese mother 🙂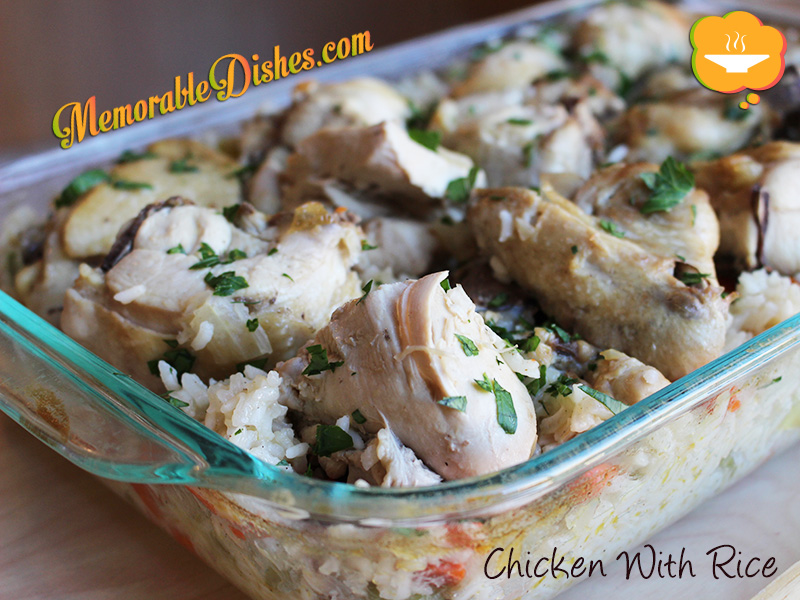 Ingredients
(For Chicken Broth)
1 Chicken whole (approximately 4 pounds)
1 Celery stalk with leaves, halved
1 Onion, halved
1 Bay Leaf
1 tsp Salt
10 cups of Water for boiling
(For Chicken Rice Dish)
3 tsp Olive Oil
1 medium diced Onion
2 diced Celery stalks
2 diced Carrots
2 cups of long grain Rice
1 tsp Salt
½ tsp Pepper
4 cups Chicken Broth (from the boiled chicken)
Chopped Parsley for garnish
Preparation
Cut the chicken into serving size pieces and trim any excess fat.
Place chicken, celery, onion, bay leaf and 1 tsp salt in large pot and cover with water.
Bring the water to a boil and skim any scum and fat floating on top.
Turn down to medium low heat and simmer for 45 minutes.
Once it's done, set chicken aside from broth.

For Rice Preparation

Preheat oven to 375°F.
Heat olive oil in large frying pan.
Sauté onions, celery and carrots over medium heat until soft (about 5-10 minutes).
Add rice, chicken broth, salt, and pepper into the vegetables and mix.
Bring liquid back to a boil and turn off heat.
Put rice mixture in a baking dish and place chicken on top.
Bake at 375°F for 15 minutes.
Cover with foil or lid and let it stand until all liquid is absorbed.
Garnish with parsley.
Notes
Note #1: You can blanch the chicken pieces before boiling them to eliminate most of the scum.
Note #2: If rice is too dry for your liking, add some extra broth and then cover for a few more minutes.
https://www.memorabledishes.com/chicken-with-rice/
Recipe by Memorable Dishes | www.memorabledishes.com