When I first made this Memorable Dish, I cut out the back and rib bones as recommended by recipes I found online. When serving it to my mom and aunt, who both love sucking on meat and fish carcasses, they were disappointed that there were no bones to suck on from my flattened chicken. If you are a food lover, you know the tastiest part of the meat is close to the bone.
My boys used to love eating chicken and meat off the bone. As they've grown older, they just like eating the meat part (I think they've become lazy and just want to eat quickly so they can go off and play.) Now my oldest son is finally starting to eat the meat off the bones again. My daughter is still young and has the patience to eat the whole chicken drumstick right to the bone!
It is so easy to barbecue flattened chicken after doing the initial prep. I use seasoning from my Perfect Roast Chicken recipe but you can use any seasoning you want. Even simple salt, pepper and garlic powder taste great. Now I don't dare to cut out the back and rib bones anymore in case my family pop by to eat my flattened chicken 😛 .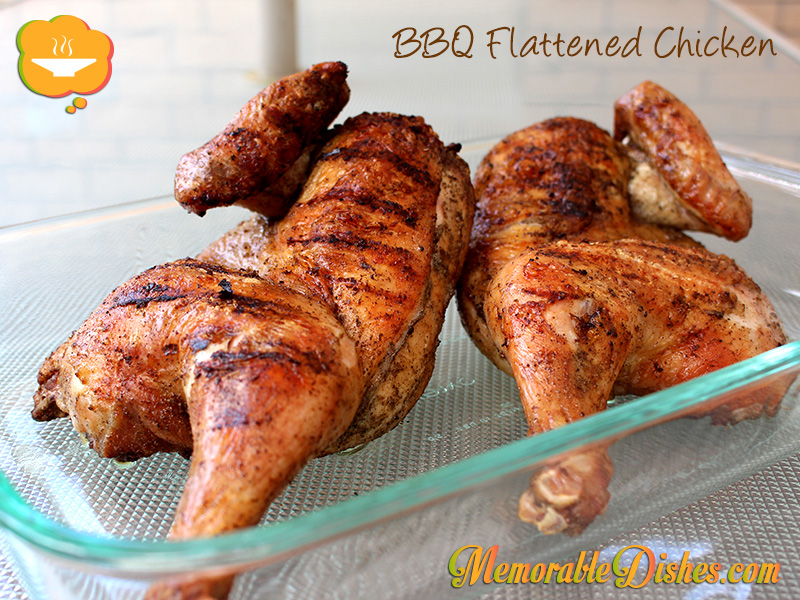 Ingredients
1 Chicken whole (approximately 4 pounds)
1 tbsp Kosher Salt
½ tsp Pepper
1 tsp Garlic Powder
1 tsp Poultry Seasoning
Preparation
Mix salt, pepper, garlic powder and poultry seasoning in a small bowl. Set aside.
Cut chicken in half and tuck the wings in. If desired, cut out the back and rib bone with kitchen shears.
Sprinkle herb and salt mixture all over chicken.
Heat your whole barbecue up to high heat.
Once it's heated, place chicken on the barbecue skin side down.
Grill on high for 5-10 minutes until you get grill marks. Watch carefully so you don't get flare ups.
Turn heat off on the side where you have the chicken on and leave the other side of the barbecue on high. (You'll be cooking by indirect heat.)
Flip the chicken (skin side on top now) and barbecue on indirect heat for 30-45 minutes until chicken is done.
Let the chicken rest for 10-15 minutes before cutting.
https://www.memorabledishes.com/bbq-flattened-chicken/
Recipe by Memorable Dishes | www.memorabledishes.com