Hot pot is something that I crave during the cold winter months. The boys also look forward to eating it every winter. Chinese hot pot consists of using broth to cook slices of meats, seafood, dumplings and vegetables in a boiling pot of broth. You set this up on the dining table and everyone cooks their own food. It's like a fondue except you cook with boiling broth.
This is definitely a Memorable Dish for our whole family because we all look forward to it during the winter months. Thinking about eating hot pot always makes me hungry. The kids love picking their own pieces of meat and dumping them into the bubbling broth. They especially love the baby cuttlefish. My second son always forgets that the meat is piping hot after it's just done cooking and usually ends up burning his tongue.
I remember my maternal grandmother used to have hot pot practically every evening during the winter months! In Hong Kong, there's no central heating because it doesn't snow and doesn't get super cold. However, you need to wear thicker clothes inside the house or you might have a space heater if you're really cold. To keep warm, my grandparents used to have hot pot in this mini pot that just serves one or two people.
We like using plain broth because of the kids. But you can spice it up by making your own spicy broth. If you dare, you can make a mala sauce which consists of Sichuan peppercorns, chilies and various spices. The Sichuan peppercorns create a numbing effect on your tongue – people either love it or hate it. But for now, we'll stick to our regular broth hot pot.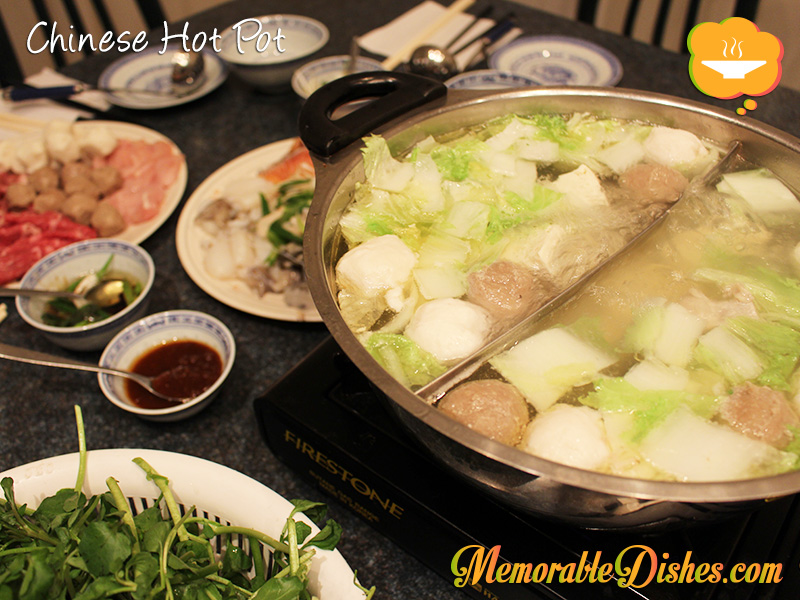 Ingredients
Slices of Chicken
Slices of Beef
Slices of Pork
Slices of Fish
Cuttlefish
Shrimp
Oysters
Tofu
Frozen Dumplings
Udon Noodles
Leafy Vegetables (Spinach, Bak Choy, etc.)
Chicken Broth

For dipping sauces:

Scallions, julienned
Ginger, julienned
Vegetable Oil
Soy Sauce
Satay Sauce
Hot Sauce
Preparation
Slice up all your meats if you're not using frozen pre-sliced ones.
For your dipping sauce, put your ginger and scallions in a bowl.
Heat up the oil until it sizzles. You can check by putting a small piece of ginger in it.
Once the oil is heated, pour the hot oil onto the ginger and scallions. Then pour in soy sauce.
You can mix in satay sauce or use the satay sauce on the side.
Set your butane burner on your dining table. (We also have an electric one.)
Heat up your broth in a pot used for hot pot cooking on the stove.
Once the broth is boiled, carefully transfer it onto your butane burner.
Cook your meats in the broth and enjoy.
You can make steamed rice to go with it if you want.
As you cook, the broth will evaporate. Add boiling water to the pot so you'll have enough liquid to cook the food.
Notes
Note #1: You can find butane burners and hot pot cooking pots at an Asian grocery store. The hot pot cooking pots are usually thinner and may have a divider in the middle so that you can split between a plain or spicy broth.
Note #2: You can purchase thin slices of meat in the frozen section at large Chinese grocery stores.
https://www.memorabledishes.com/chinese-hot-pot/
Recipe by Memorable Dishes | www.memorabledishes.com