Roast chicken, I'm sure, is a Memorable Dish for a lot of people. Grandma's or mother's roast chicken certainly evokes the childhood memories of simpler days. In today's busy world, this simple dish has reserved itself as a weekend meal, perhaps as a Sunday family dinner.
It's such a simple dish, but there are so many little tricks needed to cook it perfectly. I've made roast chicken dozens of times. Sometimes I undercook it and other times I overcook it. I've followed recipes from reputable cookbooks to no avail. One recipe said to cook the chicken for 425 degrees for 1 ½ hours. I did it a few times and the results were not always favourable.
However, I think I have finally uncovered the secrets of cooking the perfect roast chicken! One cold winter's day I was looking for fresh thyme to use for my roast chicken. I couldn't find it at this particular local grocery store but I didn't bother going to another store. I ended up perusing the herb aisle to see what I could use – poultry seasoning! I always hear TV chefs talk about poultry seasoning but have never used it. Since there was no fresh thyme available, I gave poultry seasoning a try. When I got home, I was a little skeptical about using it. It smelled like Chinese herbal medicine – not very appetizing 😛 I gave it a try anyways. TV chefs can't be wrong, right? After the chicken was cooked, the herbal seasoning mellowed out and permeated into the meat of the chicken. It was mighty tasty! Don't forget I also put butter beneath the skin and on top to make it crunchy and tasty. If you don't have poultry seasoning, you can always just use salt, pepper and garlic powder.
My whole family devoured the chicken and I even got a "I love you" from my little one for making the chicken. I hope you give my roast chicken recipe a try and build your own family food memories. If you have any new tips and tricks after trying out my recipe, feel free to comment and share. I would love to hear how your roast chicken turns out 🙂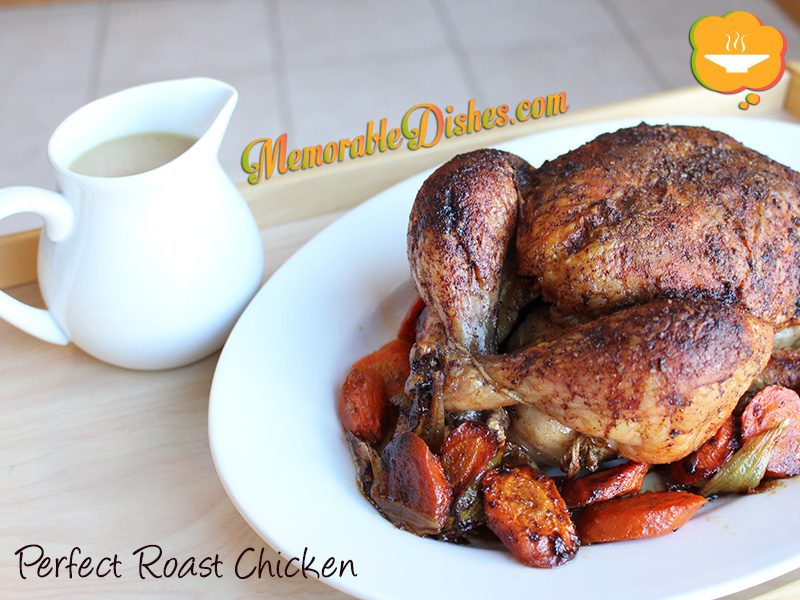 Ingredients
1 Chicken whole (approximately 4 pounds)
1 Onion quartered
2 Carrots cut into thick slices
½ cup dry White Wine or Chicken Stock
1 tbsp softened Butter
1 tbsp melted Butter
1 tbsp Kosher Salt
½ tsp Pepper
1 tsp Garlic Powder
1 tsp Poultry Seasoning

For Gravy

2 tbsp Chicken Fat or Butter
2 tbsp Flour
1 ½ to 2 cups Chicken Stock (depends on how thick you like your gravy)
Preparation
Preheat oven to 350°F.
Put carrots, onions, and wine/chicken stock in roasting pan/glass baking dish.
Rinse and pat dry chicken with paper towels.
Mix salt, pepper, garlic powder and poultry seasoning in a small bowl. Set aside.
Spread softened butter underneath the skin of chicken breast and brush melted butter all over chicken.
Sprinkle herb and salt mixture inside cavity and all over chicken.
Place chicken in roasting pan, breast side up.
Roast chicken for approximately 2 hours.
The chicken is done when its internal temperature reaches 165°F. Check by inserting an instant food thermometer to the thickest part of the chicken, the thigh, without touching the bone. When the juice runs clear, it's done.
Rest the chicken by covering it with foil while you make the gravy.

For Gravy Preparation

Make a roux by cooking the chicken fat/butter with flour in a small pot over medium heat.
Once it's mixed into a thick paste and the flour smell is gone, slowly add the chicken stock.
Stir and mix with a whisk to avoid lumps.
Bring it to a simmer until it thickens.
If desired, add drippings from roasted chicken.
Notes
Note #1: My package of poultry seasoning is made up of thyme, sage, marjoram, rosemary, black pepper, and nutmeg. If you don't have poultry seasoning, you can use the herbs you have on hand.
Note #2: If you have time and want to cook the chicken more evenly, baste the chicken with drippings from the pan every 30 minutes. (If you don't have a baster, use a silicone pastry brush to baste.) After basting, rotate roasting pan 180 degrees and continue roasting.
https://www.memorabledishes.com/perfect-roast-chicken/
Recipe by Memorable Dishes | www.memorabledishes.com