I fondly remember this dish as a child. My mom often cooked it for us because it's easy to make and tasty to eat. The sweetness of the tomatoes, the tenderness of the beef, and the softness of the egg make this Memorable Dish a favourite of mine.
I started making this dish for my children and it has become one of their favourite dishes too. It is especially great for little ones because kids love the sweetness of the tomatoes and after all, who doesn't love eggs? If you don't want to use sliced beef you can use ground beef instead.
This is a homestyle dish that many Cantonese mothers cook for their families. My mother continues making this dish for us big kids and our little kids. I would say this is one of the many staples for our Sunday family dinners. No mother makes this dish the same. I hope you enjoy our family's version of this Memorable Dish.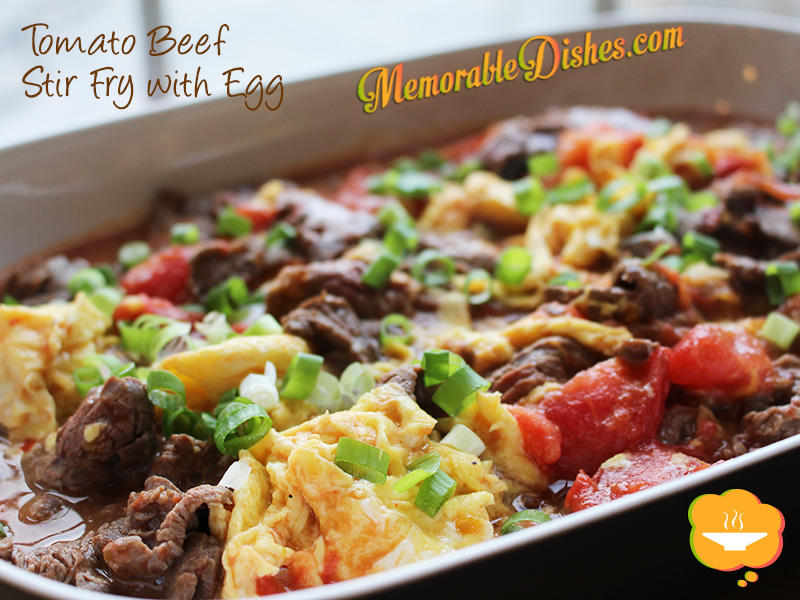 Ingredients
1 pound of Beef, thinly sliced
1 tbsp Soy Sauce
1 tsp Sugar
1 tsp Cornstarch
1 tsp Vegetable oil
2 tsp Water
2 cloves Garlic, smashed
1-2 slices of Ginger
4 Tomatoes (approximately 4 cups, cut into 6-8 pieces)
1/2 tsp Salt
1 tsp Sugar
3 Eggs, beaten
3 tbsp Vegetable Oil (1 tbsp for eggs, 1 tbsp for tomatoes, 1 tbsp for beef)
1 tsp Cornstarch
1 tbsp Water
1-2 tsp Soy Sauce
1 stalk sliced Green Onions, for garnish
Preparation
Marinate beef with soy sauce, sugar, cornstarch, vegetable oil and water for at least 30 minutes.
Heat 1 tablespoon of oil in a wok or a large frying pan. Scramble the eggs until they are 80% done. Set aside.
Heat 1 tablespoon of oil. Place sliced ginger first and then cook tomatoes until softened (about 3 minutes). Put 1/2 teaspoon of salt and 1 teaspoon of sugar and mix. Set aside.
Heat 1 tablespoon of oil. Place smashed garlic first and then add the beef. Stir fry the beef until 80% done.
Add the cooked tomatoes and stir with the beef.
Mix 1 teaspoon of cornstarch with 1 tablespoon of water into a small bowl.
Pour cornstarch mixture into sauce until it thickens.
Put 1 to 2 teaspoons of soy sauce in the tomato and beef mixture.
Lastly put the egg in with the tomatoes and beef.
Garnish with green onions and serve on top of steamed rice.
Notes
Note #1: Use flank steak or tender cuts of beef. You can also use ground beef as well.
Note #2: If you would like to remove the skin of the tomatoes, bring enough water to a boil to cover the tomatoes. Boil for 1-2 minutes until you see the skin loosen on the tomatoes. Drain and run them under cold water to cool. Once the tomatoes are cool you can peel the skin off.
Note #3: Take the ginger slices and garlic out of the dish before serving.
https://www.memorabledishes.com/tomato-beef-stir-fry-with-egg/
Recipe by Memorable Dishes | www.memorabledishes.com