Being Cantonese, you would think I'd have a post about steamed whole fish already! We practically eat steamed fish at every Chinese dinner. But alas, I have a grilled fish post first because it's barbecue season! I absolutely love grilled fish. I love the smell of the charred fins and smoky taste of the fish when you grill it.
This Memorable Dish was inspired by the sea bream I saw at our local Chinese supermarket. The sign says, "Sea Bream, European". I don't usually see sea bream on sale so I snatched one up right away. The sea bream brought back memories of visiting Greece on my honeymoon. Being a seafood lover, Greece was a fresh seafood paradise. Every restaurant I went to, I ordered grilled whole fish. Every time I asked what type of fish it was the waiter would say, "It's sea bream." Before visiting Greece, I'd never heard of sea bream before. But apparently it's a very popular fish to eat in Europe. So when I saw it at the supermarket in Canada, I was super ecstatic and bought it to grill. I wanted to test grill it first before my post because I didn't want to screw it up 😀 .
The sea bream I grilled turned out great so I proceeded to grill a whole tilapia for this post. If your fish is a bit thicker in certain parts, cut some slits so it'll cook more evenly. I also had some fresh garlic stalks from my in-laws' garden that I stuffed the fish with. When I brought the cooked fish into the house, the kids all cheered. (Maybe they were happy that I didn't burn down the house when they saw smoke coming out of the barbeque 😛 .) Fish is always a favourite in our household. I think the kids enjoy the grilled fish as much as I do since it's a nice change from our usual steamed fish.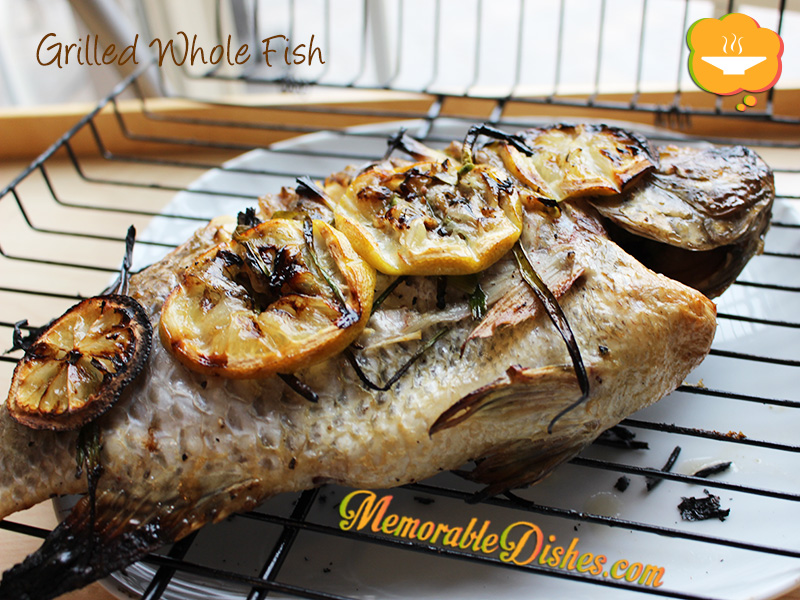 Ingredients
1 Whole Fish (Sea Bream or Tilapia approximately 1 1/2 pounds)
6 Lemon slices
1-2 stalks of fresh Garlic, cut the thick parts to thinner pieces
Salt & Pepper
Olive Oil
Preparation
Preheat grill on high.
Cut the thick parts of the fish with 2-3 diagonal slits.
Coat the fish on both sides with olive oil.
Sprinkle fish with salt and pepper.
Stuff the cavity with fresh garlic stalks and put some into the slitted parts of the fish.
Place 3 lemon slices on the large fish grilling basket. Then place the fish on top. Then place the other 3 slices on top. Close the grilling basket.
Grill fish on high heat until the fins are a bit charred (approximately 5-10 minutes).
Then flip and grill for another 5-10 minutes.
Notes
Note #1: If you don't have fresh garlic stalks, you could use chives or any other aromatics that you like.
Note #2: The amount of time to cook the fish depends on how big or thick your fish is and also your barbecue. Please check the thickest part of the fish for doneness. Also, the fish will continue to cook once you take it off the grill. So take it off as soon as it's done and let it sit for 5 minutes before serving.
https://www.memorabledishes.com/grilled-whole-fish/
Recipe by Memorable Dishes | www.memorabledishes.com