I remember my mom used to make this for us while growing up in Hong Kong. The summer weather was super hot and humid and having this as a snack or dessert was so nice and refreshing. I was going to call this "Chinese" Coconut Pudding but I am sure the Chinese adopted this Memorable Dish from other southeast Asian countries. Also, it's not really like a pudding but more like a jelly-like cake.
My mom gave me the recipe she had from her notebook and said it wasn't the greatest but I tried it anyway. It turned out to be a big disaster. I was suspicious of the recipe when I looked at it. It used a huge amount of cornstarch that I knew was going to yield a pasty pudding. So the first one I made went straight to the garbage 😛 .
I found different recipes online that use gelatin powder but this wasn't what my mother used. She used agar-agar instead. Agar-agar is sold dry but when reconstituted, it becomes jelly-like. Lots of Asian desserts use agar-agar to create a jelly-like effect. This recipe combines my mother's recipe along with my own experimenting. It tastes great and has the agar-agar texture that I expected. Next time I'm going to experiment with gelatin powder and see what that would be like. This Memorable Dish has become more like a science experiment than cooking 😉 .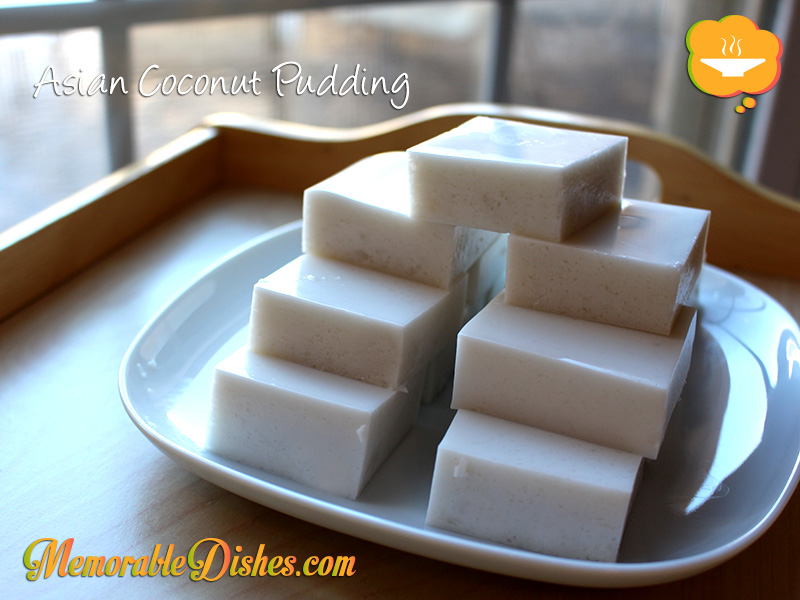 Ingredients
1/2 oz agar-agar
1 cup Water
2 cups Coconut Milk
½ cup Sugar
1 Egg White
Preparation
In a medium pot, heat 1 cup of water and agar-agar using low to medium heat. (Make sure the water is never boiled but at a low simmer.)
Whisk agar-agar in the water until it's dissolved. Add sugar and mix.
In a small bowl, beat egg white gently. Pour egg white in the coconut milk. Then pour this mixture into the pot and simmer gently until everything is mixed. (About a minute or two.)
Pour coconut milk mixture in a 8x8 glass pan (to be cut into squares) or into different molds to set.
Put it into the fridge to chill and set.
Cut into squares.
Notes
Note #1: I divided my 1.5 oz agar-agar into thirds to get my 1/2 oz by cutting it with kitchen shears.
Note #2: If you want to make the texture extra smooth, strain the mixture before putting it in the pan or molds.
https://www.memorabledishes.com/asian-coconut-pudding/
Recipe by Memorable Dishes | www.memorabledishes.com