This is one of my favourite things to barbecue in the summer when I have friends over. Usually, I make this Memorable Dish several times each summer. Now that I have my third child, I think I've made it only once this summer. Yikes! Over the years I have perfected my recipe for kalbi. I adapted a recipe I found, modified it, and used it ever since. I assume it's a pretty authentic recipe (if it isn't please let me know 🙂 ) .
My husband and I have become a kalbi partner in crime cooking team. I do the marinade and he barbecues them. He's been burning the kalbi less and less and making it just the way our family likes it. It's hard to tell you exactly how long to barbecue the beef ribs for. It really depends on your grill, the thickness of the meat, and how cooked your family likes it.
As you can see, I am trying to hold on to the flavours of summer! But of course you could make this anytime of the year. Don't despair if your kalbi doesn't turn out the way you like. It has taken us lots of trial and error to perfect the recipe and cook them the way we like it. Even at times, we would burn or overcook them (usually it's the first time each summer 😛 ) Make summer last all year long by making this Memorable Dish!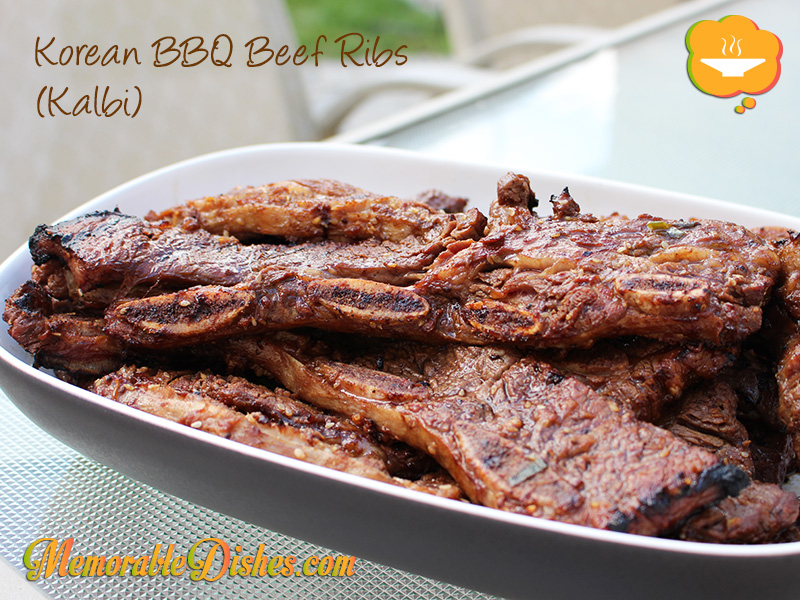 Ingredients
4 pounds Beef Short Ribs, (ask the butcher to cut them just under 1/2 inch)

Marinade:

1 cup Soy Sauce
2 tbsp Sesame Oil
1 tbsp Honey
2 tbsp Brown Sugar
1/4 tsp ground black pepper
1 tbsp Korean Ground Red Pepper
2 tbsp Sesame Seeds, toasted
1 Asian Pear, grated
1 small Onion, grated
1 tbsp Ginger, grated
2 tbsp Garlic, minced
2 Green Onions, sliced
Add to meat 30 minutes before barbecuing:
2 Kiwis, pureed
Preparation
In a large bowl or baking dish, mix all the marinating ingredients together (except for the pureed kiwis).
Marinate beef short ribs with all the marinating ingredients for at least 1 hour or preferably overnight.
Take your ribs out 30 minutes before you're ready to barbecue them. Add pureed kiwis to the marinade and meat and mix well. (Do not leave kiwi on the meat for longer or it'll break down the meat too much.
Heat your grill to high. Remove the meat from the marinade.
Once your grill is heated, barbecue the ribs until tender, lightly charred and to the doneness that you desire.
Serve with rice and kimchee.
Notes
Note #1: I don't usually put ground red pepper in my recipe because I have young kids and don't want it too spicy. Even without it, the kalbi is mighty tasty 🙂 .
Note #2: I use an extra large ziploc bag with a bowl underneath to marinade my ribs and rotate the meat around every few hours.
https://www.memorabledishes.com/korean-bbq-beef-ribs/
Recipe by Memorable Dishes | www.memorabledishes.com