I have never been a fan of ratatouille. Maybe I've only had bad ratatouille. Until my George Brown College cooking class when my teacher opened my eyes to what good ratatouille could taste like, I avoided it like the plague. Before then, my encounter with ratatouille had not been a favourable one. I might have had mushy ratatouille as a side dish at restaurants but I don't quite recall how I have come to block this dish from my culinary memory.
Coincidentally, while I was prepping to write this blog post, I came across a ratatouille recipe from Anthony Bourdain's cookbook and he shared my own sentiments about ratatouille. He mentioned that he couldn't stand that "ratatouille is traditionally sort of sludgy." I couldn't agree more. Because you cook all the vegetables together without taking into consideration of each vegetable's cooking time, the dish ends up being one big mushy vegetable stew. Bourdain's recipe requires you to cook each vegetable separately and then mix in the seasonings afterwards. This prevents the vegetables from over cooking.
Mushy vegetables stewed together in one big pot was what I knew to be ratatouille until my George Brown culinary teacher introduced me to a new way of cooking it. He separated the vegetables like Bourdain's recipe but he kicked it up a notch by roasting the vegetables. I couldn't believe my tastebuds when I had the ratatouille tasting in my class after he prepared it. Wow!
Ratatouille has now become my all-time favourite vegetable dish. This Memorable Dish is not difficult to make. It's just a bit more time consuming because you have to roast each vegetable separately. However, it's a great dish to make ahead of time even overnight. All you have to do is reheat it in the oven until it's warmed through. It tastes best at room temperature. If you have a phobia of ratatouille, please give this dish a try because it will change what your mind and taste buds think of traditional ratatouille.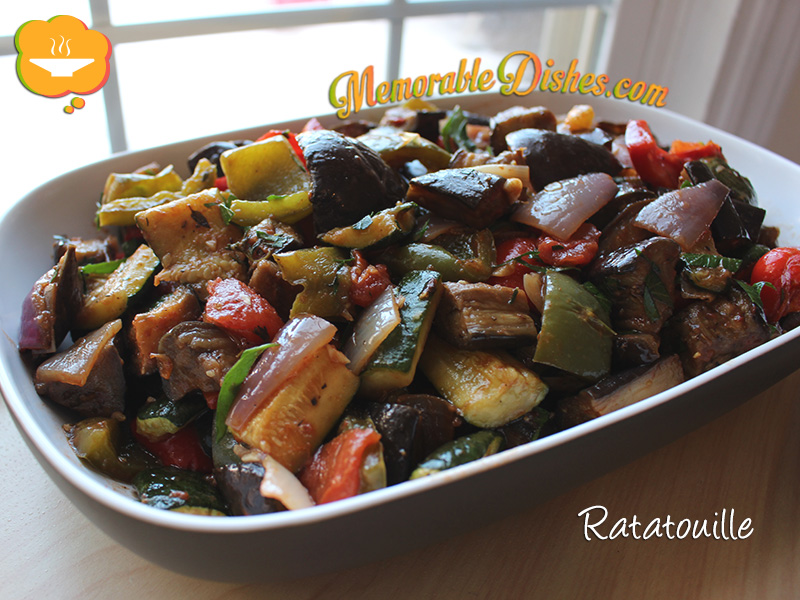 Ingredients
2 Red Peppers
2 Green Peppers
1 Eggplant
2 green Zucchinis
2 yellow Zucchinis
2 Roma Tomatoes
1 Onion (medium)
4 cloves of Garlic, chopped
Few sprigs of fresh Thyme
Basil (optional)
Olive Oil
Salt & Pepper
2 tablespoon Tomato Paste
1/4 cup Stock (chicken or vegetable)
Preparation
Preheat oven to 450°F and line roasting pan with foil.
Cut all vegetables in 3/4 inch cubes.
In a bowl, toss each vegetable separately with olive oil and salt & pepper.
Roast each type of vegetable separately until they are done. (Red and green peppers together, then eggplant, and then green and yellow zucchinis.) It'll take approximately 20 minutes for each type of vegetable depending on your oven. Check and toss vegetables around with a spatula if needed.
Mix the tomatoes and onions together to roast. When roasting the tomatoes and onions, cook them when they are 3/4 done (approx. 10-15 min.) Then toss in the chopped garlic and thyme sprigs and continue roasting until done.
Put all the cooked vegetables into one large bowl and set aside.
In a small saucepan, bring chicken/vegetable stock to a simmer and then add tomato paste and bring them to a boil.
Pour the tomato paste mixture and basil (if using) and gently mix with the vegetables so they don't break apart.
Eat at room temperature.
Notes
Note #1: I didn't have basil on hand when I made this recipe. Instead, I used flat-leaf parsley. Of course the flavour is different but using parsley gives the dish a more refreshing taste.
Note #2: To save time, you could roast the vegetables in different pans and put them in the oven at the same time. However, you'll have to adjust the cooking time because the vegetables on the top rack will take longer to roast.
https://www.memorabledishes.com/ratatouille/
Recipe by Memorable Dishes | www.memorabledishes.com