Who doesn't love crunchy chow mein that you order from Chinese take out restaurants? It's deceiving how fattening those skinny crunchy noodles are. Believe it or not, they are deep fried. I know – shocking isn't it?
I for one, LOVE the crunchy chow mein that I order from Chinese restaurants. The meat and sauce on top of those crunchy noodles – It's a perfect sensation in your mouth when biting into the saucy part of the noodles combined with the crunchy part.
This Chicken Crunchy Chow Mein is definitely one of my favourite memorable go-to dishes. Super-easy, super-delicious, and super-impressive! I've made it for my own parties and brought it as a potluck dish to friends' houses.
I wanted to create super crunchy noodles without the added fat. So I figured out baking the noodles with a little bit of oil can create the same effect. Here, I will show you how I make it. This is my secret passed onto you 😉 Your friends and family will be impressed that you can create restaurant-quality Crunchy Chow Mein from home.
I think this dish could be one of my friends' most Memorable Dishes of mine. They are always shocked that it's not bought from a Chinese restaurant. Yes, it's that good!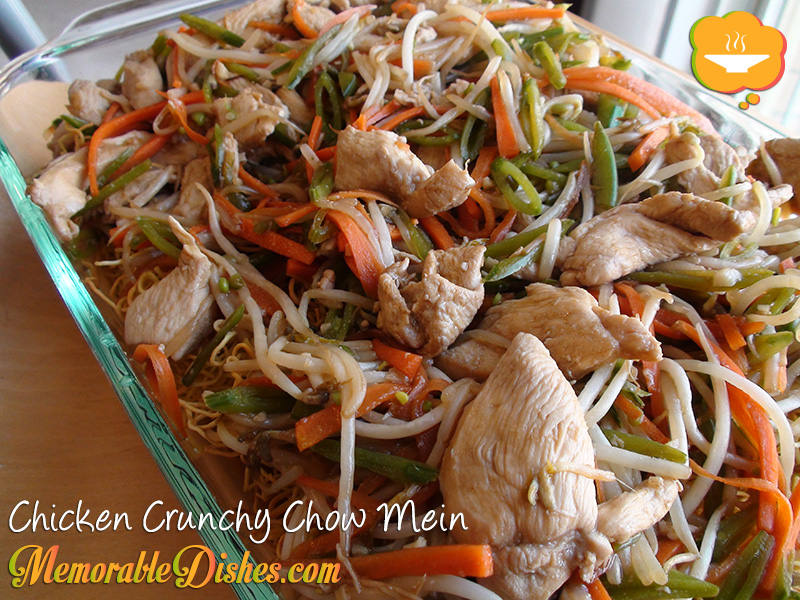 Ingredients
2 boneless, skinless sliced Chicken Breasts (approximately 8 oz. each)
1 tbsp of low sodium Soy Sauce
1 tsp Sugar
1 tsp Cornstarch
1 tsp Chinese Cooking Wine (optional)
2 cloves minced Garlic
1 tsp of minced Ginger
2 tbsp of Oyster Sauce
½ cup of Chicken Broth or Water
1 lb Bean Sprouts
1 ½ cup of julienned Carrots
1 ½ cup of julienned Snow Peas or Sugar Snap Peas (trimmed)
½ tsp of Salt
1 Package Egg Noodles
Vegetable Oil (2 tbsp for noodles, 2 tsp for vegetables, 2 tsp for chicken)
2 tsp Cornstarch
2 tbsp Water
Preparation
Marinate chicken with soy sauce, sugar, cornstarch, and cooking wine for at least 30 minutes in refrigerator.

For Noodles Preparation

Preheat oven to 400°F.
Put egg noodles in a large stainless steel bowl.
Boil enough water to cover the noodles in the bowl.
Once the water is boiled, pour it on the noodles.
Loosen the noodles with a fork and let them sit for 1 minute.
Drain noodles out thoroughly with a colander and pat dry with paper towel.
Line baking sheet with parchment paper.
Spread 1 tbsp of vegetable oil on the bottom of the lined baking sheet.
Put noodles on oiled baking sheet.
Then pour another 1 tbsp of vegetable oil on top of the noodles and mix.
Bake for 10-15 minutes then flip the noodles over and bake it for another 10-15 minutes. (It depends on how crunchy you want them. I like them extra crunchy 🙂
Set aside.

For Vegetables and Chicken Preparation

Heat 2 tsp of oil in wok or large frying pan.
Fry up carrots and cook for a few minutes, then add snow peas and lastly the bean sprouts.
Cook vegetables until tender but still have their crunch.
Set vegetables aside.
Using the same wok/frying pan, heat 2 tsp of oil and sauté the minced garlic and ginger.
Add marinated chicken to the wok and cook until chicken is done.
Add chicken broth/water and oyster sauce.
Add vegetables back into the wok/frying pan and cook until everything is mixed in.
Scoop chicken and vegetable mixture onto the crunchy noodles and leave liquid in the wok/frying pan.
Mix 2 tsp of cornstarch with 2 tbsp of water into a small bowl.
Then pour cornstarch mixture into sauce until thickens.
Pour the rest of the sauce onto noodles & meat mixture.
https://www.memorabledishes.com/chicken-crunchy-chow-mein/
Recipe by Memorable Dishes | www.memorabledishes.com