Eating this rice dish brought back memories of weekend lunches in Hong Kong when I was a kid. Almost every weekend, our family went out for dim sum. My father is an avid rice eater, which means he needs to eat rice at every meal or else all hell would break loose! If he absolutely cannot eat rice at a particular meal, noodles or pasta would suffice.
If you are familiar with dim sum, you know that it consists of small morsels of meat or dumplings. I think my father doesn't feel truly full unless he has eaten rice. So our dim sum outings would always end up with him ordering a rice dish. In most cases, it would be Minced Beef and Egg with Rice.
This dish appears in most Chinese restaurants' menu as "Raw Egg with Minced Beef Rice". Yes, the egg is raw! The waiter brings the raw egg to the table and cracks it into the beef mixture right in front of you. You then mix the raw egg with the beef and rice. The hot temperature of the beef and rice cooks the egg a little but it remains mostly raw. The egg gives the dish a silky finish that I love.
Every time I eat this Memorable Dish, it reminds me of how obsessed my father is over eating rice. This restaurant-style dish is very easy to recreate at home. My whole family, including the kids, love it! I think this dish is becoming one of my kids' most Memorable Dishes.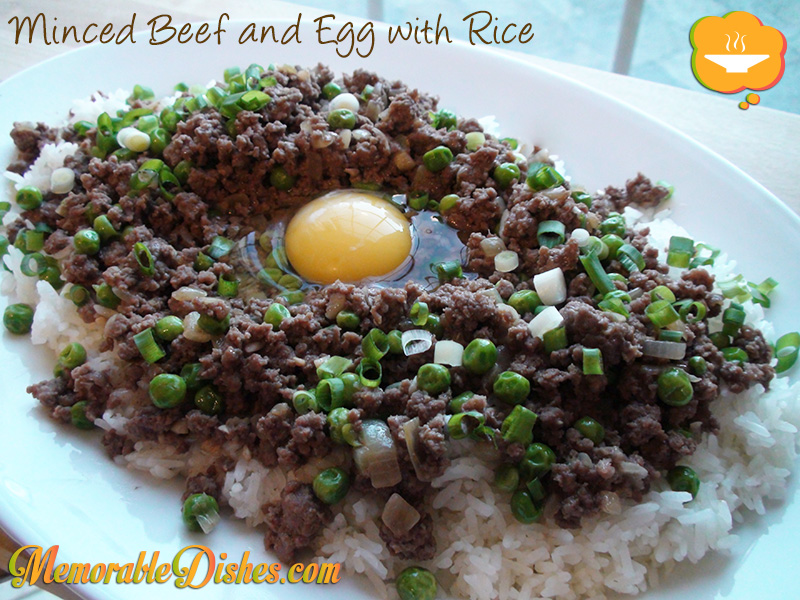 Ingredients
2 pounds of Ground Beef
2 tbsp of low sodium Soy Sauce
1 tsp of Sugar
1 tsp of Cornstarch
1/8 tsp of White Pepper
1 tsp of Sesame Oil
2 tbsp of Water
1 small diced Onion
2 cloves of minced Garlic
2 cups frozen Green Peas
1 tbsp of Oil (neutral tasting oil such as Canola or Vegetable)
2 tbsp of Oyster Sauce
1 sliced Green Onion for garnish
1 Egg
Steamed Rice
Preparation
Marinate beef with soy sauce, sugar, cornstarch, white pepper, sesame oil and water for at least 30 minutes.
If you marinate the beef in the fridge, make sure you bring it back to room temperature before cooking it.
Heat oil in a wok or a large frying pan.
Sauté the onions until they are translucent (about 5 minutes) and then add garlic in.
Add beef to the onions and garlic and cook until it is done.
Stir in oyster sauce.
If sauce doesn't thicken after adding the oyster sauce, thicken with cornstarch solution (mix 1 tsp. cornstarch and 1 tbsp. water in a bowl first then add it into the beef mixture).
Lastly, add peas in the mixture and cook until peas are heated through.
Put beef mixture on a bed of steamed rice.
Crack and stir the raw egg into the rice dish.
Garnish with sliced green onions.
Notes
Note #1: If the beef is too fatty, you might want to drain the fat after cooking before putting the mixture on the rice.
Note #2: If you are squeamish about using a raw egg, you can always cook it sunny side up or over easy. If you are using the raw egg, make sure you wash the shell thoroughly.
https://www.memorabledishes.com/minced-beef-and-egg-with-rice/
Recipe by Memorable Dishes | www.memorabledishes.com