Thousand Island Shrimp – how can I forget this Memorable Dish? It's not only one of my favourite from my uncle, who is a professional Cantonese cuisine chef, but it's all my brothers' and my Canadian cousins' favourite too! My cousins could be impartial because my uncle is their dad 😉
I just love eating this crunchy on the outside and juicy and tender on the inside shrimp smothered with semi-secretive thousand island sauce.
Every time we went to the restaurants my uncle has worked at, we would order this dish. Sometimes it wasn't even on the menu but if we requested it, he would cook it for us. There were times when we were expecting to have this yummy shrimp dish but my family didn't order it. The parents would say, "Always the same dish! Try something different!" But we love it and just have to have it. It's almost like an addiction! I'm thinking about it as I'm writing this and realize we haven't had it in awhile! I need to have my dose of thousand island shrimp now!
My mom had made this dish at home so I inquired about the recipe for the homemade version. You can never compare nor re-create Cantonese restaurant dishes properly from home because you don't have the crazy fiery wok to cook from. People always think Chinese food is oily. But it's because they've only eaten at restaurants. Home-cooked Chinese food is fairly healthy because we use less oil. Cooking this dish from home would not do it justice but it's pretty close. Unless you rent a Cantonese restaurant and try to replicate this dish from a professional chef, I guess you'll have to go to my uncle's restaurant to check it out for yourself!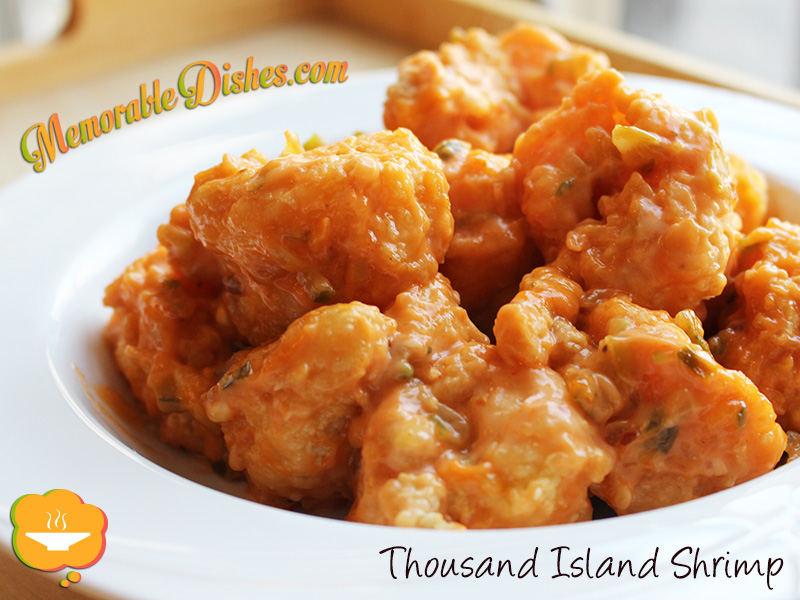 Ingredients
12 Large Shrimp, peeled and deveined
1/2 tsp Sesame Oil
1/4 tsp Kosher Salt
1/4 tsp White Pepper
2 Eggs, beaten
1/2 cup Cornstarch
1/2 to 3/4 cup Thousand Island Dressing (If you don't have it on hand, quick recipe below.)

Quick homemade Thousand Island Dressing

1/2 cup mayonnaise
1/4 cup ketchup
1/2 cup sweet pickle relish
Vegetable Oil for deep frying
Preparation
Preheat oil in a deep fryer or deep skillet to 375°F.
Depending on which vessel you use, make sure the oil is deep enough to submerge the shrimp.
Mix sesame oil, salt and pepper with the shrimp.
Coat shrimp in cornstarch and shake off excess.
Then coat shrimp in beaten egg.
Finally, coat shrimp in cornstarch one last time.
Deep fry the shrimp until golden brown for 2-3 minutes depending on the size of your shrimp.
Make sure you don't overcrowd the shrimp. Fry in batches if you're not using a deep fryer with lots of oil.
Once the shrimp are done, place them on a plate lined with paper towel to absorb excess oil.
In a wok or large skillet, heat up your thousand island dressing.
Put the fried shrimp in the wok and mix until all the shrimp is coated with the dressing.
Notes
Note #1: If you want the shrimp to be extra crunchy, refry them a second time before adding the sauce. However, if you decide to fry them twice, under fry the shrimp the first time.
Note #2: Depending on the size of your shrimp, put between 1/2 to 3/4 cup of the sauce. You can heat up part of the sauce and add more as needed.
https://www.memorabledishes.com/thousand-island-shrimp/
Recipe by Memorable Dishes | www.memorabledishes.com