This Memorable Dish has become my go-to muffin recipe. It's healthy, not too sweet, and light and fluffy. I don't remember where it originated from. Surprisingly, I didn't find this recipe online. I think I initially found this recipe from a newspaper—how retro! I've modified the original recipe to suit my family's liking as usual because we don't like things too sweet.
This Memorable Dish has been a notorious success with my family. I'd make it when my cousins from the States visited. But I preferred to make them ahead of time so that my cousins would have something to eat for breakfast the next morning. One of my cousins enjoyed them so much she asked for the recipe so that she could make it at home. When we had our Canadian and US families gathered for brunch, she made them here in Canada for us! She really likes these muffins 🙂
This Memorable Muffin is made from almond flour (ground almonds) so the kids cannot bring them to school due to a nut-free policy. However, we make them for home and the kids have them for breakfast or as a snack. Now, my third little one will get to taste this yummy muffin for the first time!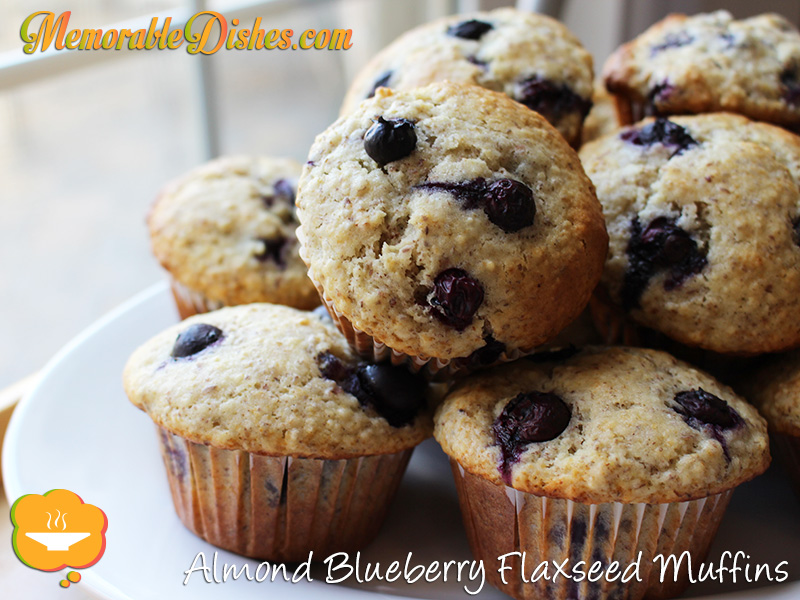 Ingredients
1 3/4 cup All-purpose Flour
1/2 cup Almond Flour (ground almonds)
4 tsp Baking Powder
1/2 tsp Salt
1/4 cup Ground Flaxseed
1 1/2 cup fresh Blueberries
2 large Eggs
1 cup 2% Milk
2/3 cup Sugar
1/3 cup Almond oil
1 tsp Vanilla Extract
Preparation
Position rack in middle of oven. Preheat oven to 400°F.
Line 12-cup muffin pan with paper liners.
In large bowl, whisk flours, baking powder, salt, and flaxseed to combine. Add berries and stir to coat.
In another bowl, whisk eggs, milk, sugar, oil, and vanilla extract to combine.
Pour egg mixture into berry mixture and gently mix with a fork to moisten dry ingredients. Don't overmix (a few lumps in batter are normal). Pour batter into muffin cups.
Bake until muffins are puffed and wooden pick inserted into center comes out clean, about 20 minutes. Cool 5 minutes on rack before serving.
Notes
Note #1: If you don't have almond oil on hand, you can also use a neutral tasting oil such as canola oil.
Note #2: I have also used frozen blueberries and the results are the same except the whole muffin turns blue 🙂
https://www.memorabledishes.com/almond-blueberry-flaxseed-muffins/
Recipe by Memorable Dishes | www.memorabledishes.com