Hearing the clanging sounds of Chinese scissors and smelling rice roll being steamed bring back childhood memories of eating this Memorable Dish on the side of the road. The street vendor lines a brown parchment-like paper on top of a metal dish and cuts each strip of rice roll perfectly for each mouthful. Then he drizzles hot oil and gives us the option of adding the amount of soy sauce we want. The sesame sauce and hoisin sauce are diluted perfectly so it allows easy drizzling over the top of the steamed rice roll. There's hot sauce available as well. I love hot sauce normally but I usually don't put any in my steamed rice roll. I think the hot sauce overpowers the yummy combination of the oil, soy sauce, hoisin and sesame sauce.
Growing up in the mid-80s Hong Kong, food hawker carts were still on the streets at that time. Now, all the street vendors have moved into mini-mall food courts or they actually have a store alongside on the street. Eating breakfast on the street was a regular thing to do. I remember some schools didn't allow kids wearing school uniforms eating on the street because they didn't want a bad reputation for their school. But we didn't care, we ate on the streets anyways. It wasn't like there was uniform police who arrested us 😛 .
Recently, I heard a snippet about steamed rice roll from a Chinese radio food show. He talked about an amazing steamed rice roll place being closed down in Hong Kong and people just loved eating the rice roll from that place. It was the magic of the sauce that kept bringing people back. Apparently the lady who owns the place told the radio announcer that she renders pork fat and mixes it with the hot oil. That's their secret weapon to bring their customers back time and time again. (Oooops for the vegetarians/vegans who eat their steamed rolls and think it's a vegetarian/vegan dish.)
Even with my non-pork fat oil version, I almost devoured the whole package of steamed rice rolls myself! I think it's the texture of the rice roll mixed with the combination of sauces that heightens my sense of the umami taste. My kiddies love eating this steamed rice roll as well. It's too bad that they won't be able to experience eating this Memorable Dish like I did because food carts like this are no longer on the streets. Their memory of eating this would be being served at restaurants or at home.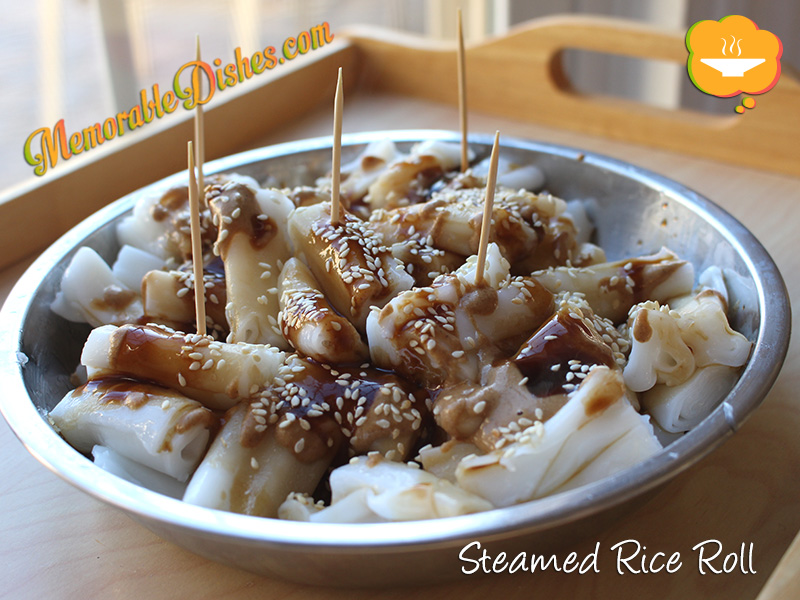 Ingredients
1 package of Fresh Rice Roll (can be found at your local Chinese grocery store)
1 tbsp Chinese Sesame Paste
2 tbsp Hot Water
2 tbsp Hoisin Sauce
1 tbsp Hot Water
1/4 cup Premium Soy Sauce
1/4 cup Water
2 tbsp Sugar
1 tbsp Toasted Sesame Seeds
1 tbsp Oil, heated
Preparation
Make the sauce by diluting 1 tablespoon of Chinese sesame paste with 2 tablespoon of hot water and 2 tablespoon of hoisin sauce with 1 tablespoon of hot water. Set aside.
In a small pot, heat 1/4 cup premium soy sauce, 1/4 cup water and 2 tablespoon of sugar until the sugar dissolves. Set aside.
Cut the fresh rice roll into 1 inch pieces and place them on a metal or ceramic plate.
To steam the rice rolls, put approximately 1-2 inches of water in a large pot and bring it to a boil.
Once the water is boiled, place bamboo steamer on top and place plate inside steamer and cover.
Steam until rice roll is heated through (5 minutes or longer depending on how fresh rice roll is or if it's in the fridge).
Drizzle heated oil, toasted sesame seeds and enough sauce and soy sauce to taste.
Notes
You can make your own toasted sesame seeds by placing raw seeds in a shallow pan and heating them gently on top of the stove. Mix and watch carefully because once it starts toasting, they can heat up pretty fast.
https://www.memorabledishes.com/steamed-rice-roll/
Recipe by Memorable Dishes | www.memorabledishes.com