I remember being introduced to Vietnamese food when my uncle married my aunt. We were living in the States at the time. My aunt is from Vietnam but she's native Chinese. And the foods she grew up eating in Vietnam were different than the ones I was used to. So when she prepared these salad rolls and other Vietnamese dishes, I was very excited about trying them. The traditional rolls use Vietnamese sausage or shrimp but I used poached chicken instead. I also used a simple hoisin and sesame paste dipping sauce instead of the watery one with the fish sauce. I believe you could use either.
Our kids used to find it awkward to eat when they were little. But as they've grown older, they've come to love this dish. It's a bit time consuming to make because I'm an amateur roller 😉 When it's really hot outside, I like to eat something cool. So this is the perfect dish to make in the summer and great to take on a picnic. This is one of my all-time favourite summer Memorable Dishes to make. So crunchy and refreshing!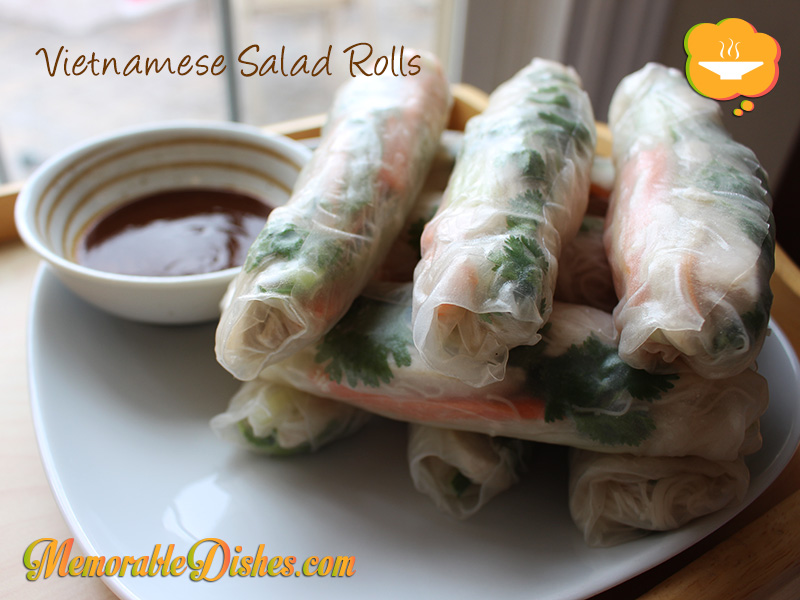 Ingredients
1 pound poached Chicken Breast, sliced
2 cups Carrots, julienne
2 cups Cucumbers, julienne
2 cups cooked Rice Vermicelli
1 cup Cilantro
1 package Rice Paper
Boiling Water

Dipping Sauce

1 tbsp Chinese Sesame Paste
1/4 cup Hoisin Sauce
1/4 cup Hot Water
Preparation
Poach the chicken and prepare the rice vermicelli according to the package. Rinse the vermicelli in cold water to prevent from sticking.
Have all your ingredients ready and prepare to wrap.
Use 2-3 large plates on the table to wrap the rolls in.
Put boiling water in a large bowl, enough water to submerge the rice paper in.
Place 1 rice paper in the boiling water. Make sure the whole paper is submerged.
Take rice paper out and place it on a plate. (It takes a few minutes for it to become pliable to work with.) Do the 2nd rice paper and place it on the 2nd plate.
Go back to the 1st place and start adding ingredients to the roll, some chicken, cucumbers, carrots, rice vermicelli and cilantro. Don't over stuff.
Roll it up like a spring roll and place it on the plate.
Repeat steps 5-8 until all the ingredients are used up. (If the hot water is not hot enough, replace it with freshly boiled water.)
Notes
To keep the rolls moist, line the plate with dampened paper towel and place finished rolls on top. Cover with another dampened paper towel. You're able to keep the rolls moist for at least one day in the fridge.
https://www.memorabledishes.com/vietnamese-salad-rolls/
Recipe by Memorable Dishes | www.memorabledishes.com