The thought of poached chicken wings probably doesn't whet the appetites of many North Americans. North Americans like wings to be crispy and fried. When you fry chicken wings, the fatty skin crisps up and turns the wings into bites of crunchy yumminess. Whereas, when you poach chicken wings, the fatty skin that clings on to the meat of the wing is not a texture North Americans prefer. However, Chinese people love the gelatinous texture of the chicken skin.
This Memorable Dish is another picnic food that I mentioned in my Ginger Scallion Cold Noodles post. My mom used to make these poached chicken wings for potlucks and picnics when we were kids. It's so easy to make, pack, and eat on the go. I normally take the chicken skin off if it's steamed or poached. But somehow, I love eating poached chicken wings. Maybe it's the cold salty taste of the gelatinous texture of the chicken that I love.
If you are Asian, you probably don't mind the texture of poached chicken with the skin on. If you are not, give this recipe a try! The gelatinous texture is not as unappetizing as it sounds. The taste and texture is almost like a terrine. These chicken wings are meant to be served cold but you can also eat them right away.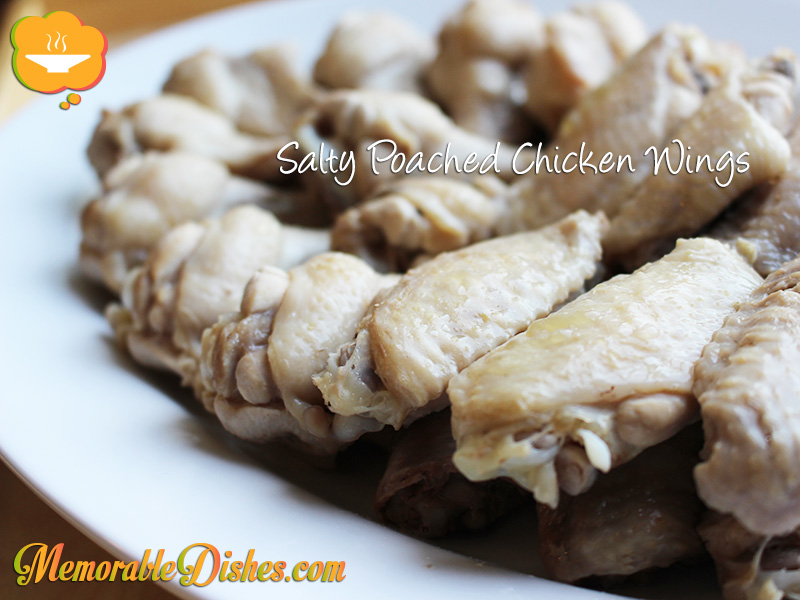 Ingredients
2 lbs Chicken Wings
3 tsp Kosher Salt
2 Star Anise
4 slices of Ginger
1 stalk of Scallion, cut into big pieces
2 cloves of Garlic
1/2 cup Chinese Cooking Wine (optional)
1 tsp of Szechuan Peppercorn or Black Peppercorn
6 cups Water for poaching
Preparation
Put all the ingredients except the chicken wings into the water and bring it to a boil.
Once the water is boiled, turn down heat and simmer for 15 minutes.
Turn heat up again and put chicken wings in the poaching liquid.
Once the liquid boils again, turn off heat, cover with lid and let chicken wings sit for 30 minutes.
Serve immediately or refrigerate them to cool.
Notes

Note #1: To avoid scum, you can quickly blanch the chicken wings before poaching them in the poaching liquid.

Note #2: For best results, leave chicken wings in poaching liquid when refrigerating. Refrigerate until cold or overnight. Take the chicken wings out of the cold gelatinous liquid and quickly rinse them under cold water.

https://www.memorabledishes.com/salty-poached-chicken-wings/

Recipe by Memorable Dishes | www.memorabledishes.com