You'd be surprised that I run out of food at my house. Yes, I do cook a lot but I try to buy fresh food as much as possible. I have nothing against the freezer. I do buy meat in bulk and freeze it. I make baby food and freeze it. And I buy frozen veggies and other frozen instant products when I'm in a food jam. But on one cold winter's day, I actually had no meat in the freezer. I didn't want to venture out to the grocery store in deep-freeze weather. What to do?…What can I make?…Tuna casserole!
Since I didn't grow up with a North American mother, tuna casserole was not a childhood dish of mine. I don't quite remember when I was first introduced to it. I might've eaten it at a friend's house or I might've made it by myself since it's such an easy dish to whip up. I didn't discover tuna casserole until I was much older.
This seems like a dish of yesteryear when everyone today is eating designer foods. But there's a comfort and simplicity to this dish. A can of cream of mushroom soup, cans of tuna and egg noodles (I use whole wheat rotini pasta). I also use grated cheese as a topping instead of the usual bread crumb topping I've seen in other recipes.
Whether you've had tuna casserole while growing up or never had it, give it a try! You can stock the items in your pantry and freezer and cook it in a pinch. Or like me, when you run out of meat in the house!
The first time I served this dish for the kids, they exclaimed, "We used to have this at daycare!" That was heartwarming to hear that they recollect eating this Memorable Dish at daycare where the ladies who cared for them were like family.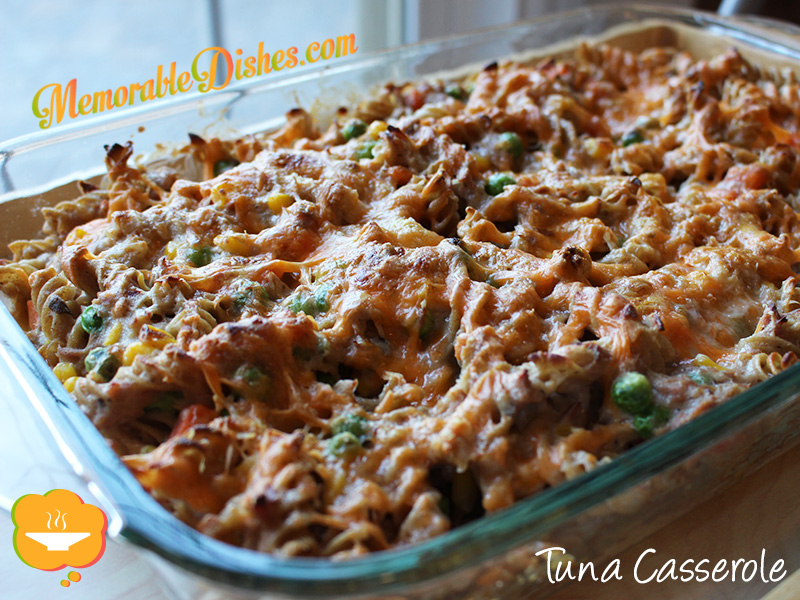 Ingredients
1 box whole wheat Rotini Pasta (375 g)
1 can Cream of Mushroom Soup
1 cup Milk
2 cans Tuna (7 oz can)
2 cups frozen mixed Vegetables
2 tsp Olive Oil
1 cup grated Cheddar Cheese
1/2 cup grated Parmesan Cheese
Preparation
Preheat oven to 400°F.
Boil the pasta based on the instructions found on the package.
Drain the pasta into a colander and mix with olive oil to prevent from sticking.
In a large bowl, mix the mushroom soup, milk, tuna (drain the liquid) and vegetables together.
Put the pasta into the mixture and mix until everything is combined.
Pour tuna mixture and pasta into a baking dish and top with cheeses.
Bake for 20 minutes or until pasta is bubbling.
https://www.memorabledishes.com/tuna-casserole/
Recipe by Memorable Dishes | www.memorabledishes.com