This Memorable Dish is another tribute to my husband. He loves sweet and sour pork. I would think most North Americans who eat Chinese food know about this dish and usually love it.
Believe it or not, this is NOT one of those dishes that was invented by North American Chinese, like chop suey. I believe sweet and sour pork is one of the most well known dishes in Chinese cuisine, both American/Canadian-Chinese and authentic Chinese restaurants alike.
My mom usually makes this for Sunday dinner when she has a bit more time because it's a two-step process. First you have to deep fry the pork and then stir fry it with the sweet and sour sauce. I always find it a bit cumbersome to deep fry stuff at home. But alas, my mom does it because she enjoys making the food we like to eat.
This version of sweet and sour pork is based on my mom's homemade version. Every Chinese family has their take on this dish and only certain Chinese restaurants make it well. Try my version but don't forget to adjust the sweetness or sourness to your family's liking.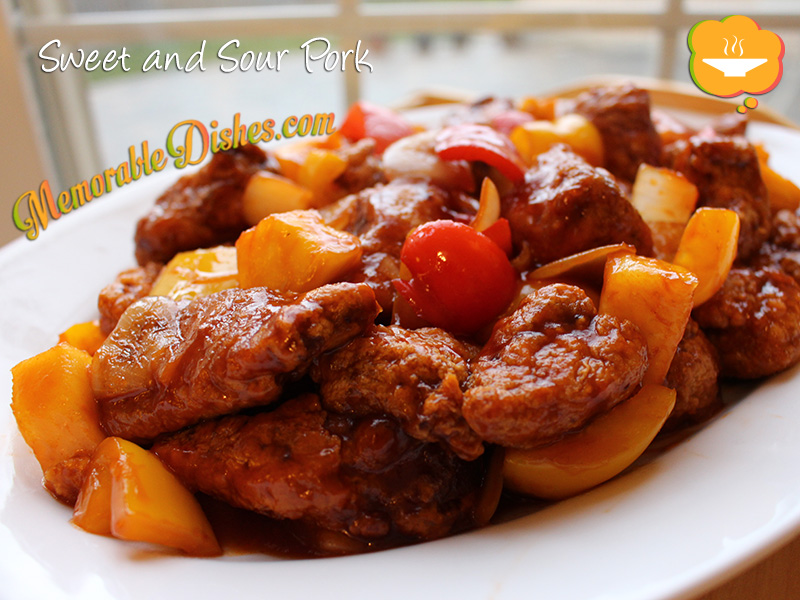 Ingredients
1 1/2 lbs Pork Butt (Shoulder), cut into 1 inch cubes
1 tbsp of Soy Sauce
1 tsp of Sugar
1 tsp of Cornstarch
1 tsp Shaoxing Wine or Cooking Wine
1 small Onion, cut into large dice
1 Pepper (green, red, orange or yellow), 1 inch pieces
1 cup fresh or canned Pineapple,1 inch cube
1/2 cup Ketchup
1/2 cup Apple Cider Vinegar
3 tbsp Sugar
1 tbsp Soy Sauce
1 Egg, beaten
3/4 cup Cornstarch
Vegetable Oil for deep frying
Preparation
Marinate pork with soy sauce, sugar, cornstarch, and cooking wine for at least 1 hour.
In a small bowl, mix ketchup, vinegar, soy sauce and set aside.
Preheat oil in a deep fryer or deep skillet to 375°F.
Mix beaten egg with the marinated pork.
Coat pork in cornstarch and shake off excess.
Deep fry the pork until golden brown for about 5 minutes or until it floats.
Make sure you don't overcrowd the pork. Fry in batches if you're not using a deep fryer with lots of oil.
Once the pork pieces are done, place them on a plate lined with paper towel to absorb excess oil.
In a wok or large skillet, heat up 1 tbsp of oil.
Fry onions and green peppers until softened, then add ketchup mixture sauce.
Once the sauce starts to boil, add the pineapples and stir.
Put the pork in and mix until everything is coated.
Notes

Taste the ketchup mixture after you mix it. You might want to adjust the sweetness or sourness to your taste.

https://www.memorabledishes.com/sweet-sour-pork/

Recipe by Memorable Dishes | www.memorabledishes.com