Sometimes the most simplest food gets overlooked. I can't believe I didn't write a blog post about this Memorable Dish sooner! Steamed minced pork and egg was a childhood staple for me. I used to and still love eating this simple dish mixed with rice.
Growing up in Hong Kong, I remember eating this dish quite a bit. Even after moving to Canada and the United States, my mother continued making it for us. It uses simple ingredients that you can find anywhere so the comfort of this childhood dish can be made in a pinch.
Our family loves this Memorable Dish with the exception of my oldest son. He likes the pork but doesn't like the custardy egg. He thinks it's tofu (which he doesn't like). I would say most kids love it though because of its silky egg. Every time I have this dish it reminds me of being a little girl gobbling it with rice.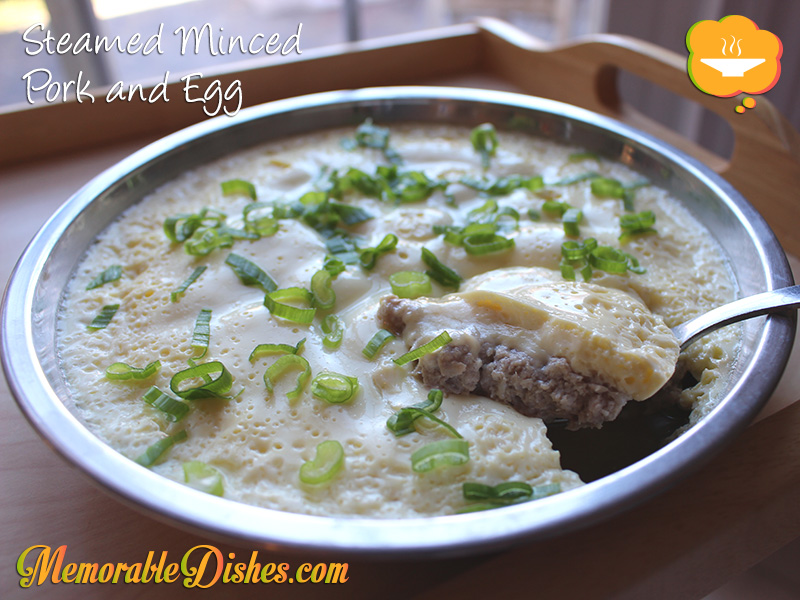 Ingredients
1/2 pound of Ground Pork
1 tsp of Soy Sauce
1/2 tsp of Cornstarch
1/4 tsp of Sugar
1/2 tsp Shaoxing Wine or Cooking Wine
Dash of White Pepper
3 large Eggs
3/4 cup Chicken Broth
1/8 tsp Salt
Green Onions, sliced, for garnish
Preparation
Marinate ground pork with soy sauce, cornstarch, sugar, shaoxing wine, and white pepper for at least 30 minutes.
In a stainless steel or ceramic wide and shallow dish, spread the ground pork mixture on the bottom of the dish as thin as possible.
In a small bowl, beat the eggs, chicken broth and salt.
Pour egg mixture on top of the ground pork.
Steam for 8-10 minutes after the water has boiled.
Garnish with sliced green onions.
https://www.memorabledishes.com/steamed-minced-pork-and-egg/
Recipe by Memorable Dishes | www.memorabledishes.com