Mapo tofu – a staple childhood favourite for Chinese children. My cousin reminded me of this dish as one of her childhood favourites. I remember eating it as a kid and now make it often for my kids. My second son absolutely LOVES tofu! Hence, this is one of his favourite Memorable Dishes!
Mapo tofu derives from Sichuan province of China which is a region known for its spicy food. The version my mom used to make was not spicy at all. As the dish travels from the northern part of China to the south, it becomes milder for the southerner's taste.
You don't have to be Chinese to love this dish. It's such a versatile and easy dish to make. Everyone in my family loves it! Kids love it because it's saucy and goes well with rice. Old people love it because it's soft and they don't have to chew as much 😉
Just to let you know this isn't an authentic version of Mapo Tofu. It's a homemade version geared towards kids. Now that my kids are older and enjoy spicy food, I add a bit of chili bean sauce AKA Doubanjiang. You can add as much or as little chili bean sauce as you want or omit it altogether to suit your family's taste. This Memorable Dish can become a staple in your repertoire of dishes to make for your family.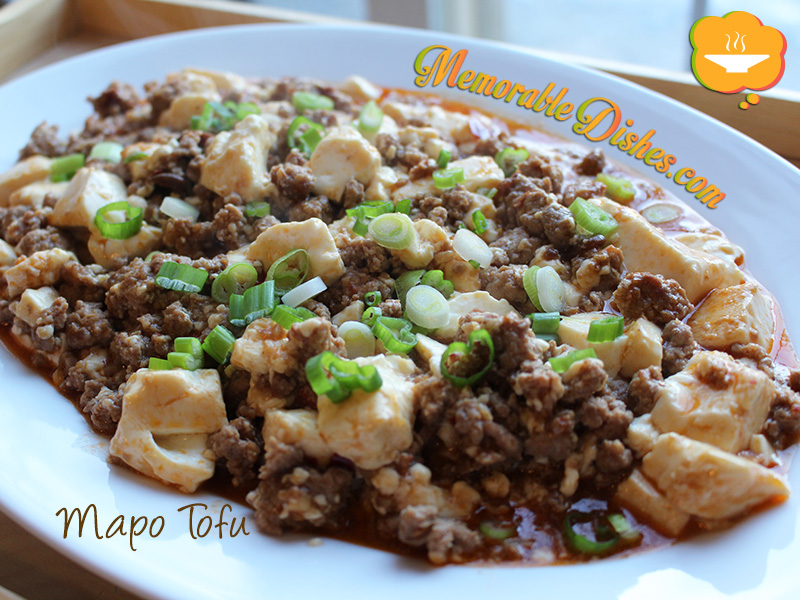 Ingredients
1 pound of Ground Pork
1 tbsp of low sodium Soy Sauce
1/2 tsp of Sugar
1/2 tsp of Cornstarch
1 tsp of Sesame Oil
1 tbsp of Water
1 tbsp of minced Garlic
½ tbsp of grated Ginger
1 package (530 grams) of tofu, cut into ½ inch cubes
1 tbsp of Vegetable Oil
1 tbsp of Oyster Sauce
1 tbsp of Chili Bean Sauce AKA Doubanjiang (optional)
½ cup water or chicken stock
1 sliced Green Onion for garnish

To thicken sauce

1 tsp cornstarch
1 tbsp water
Preparation
Marinate pork with soy sauce, sugar, cornstarch, sesame oil and water for at least 30 minutes.
If you marinate the pork in the fridge, make sure you bring it back to room temperature before cooking it for best results.
Heat oil in a wok or a large frying pan.
Add garlic and ginger and pork. Sauté until it is done.
Stir in oyster sauce, water or chicken stock and chili bean sauce (if using).
Gently put the cubed tofu into the meat mixture. Stir until it's heated through.
Mix 1 tsp cornstarch and 1 tbsp water in a bowl.
Then add the cornstarch solution into meat and tofu mixture.
Cook until everything thickens.
Garnish with sliced green onions.
Serve with steamed rice.
Notes
I like using the soft tofu but if you like a harder texture, use medium to firm tofu.
https://www.memorabledishes.com/mapo-tofu/
Recipe by Memorable Dishes | www.memorabledishes.com