My second son has been hounding me to make spaghetti and meatballs. Everytime I said I was going to make them, I ended up making spaghetti and meat SAUCE instead. I know he loves the meatballs but he doesn't know the time it entails to make them. Meat sauce is easy, fast, and I can make it without much planning. Even though he does help me crush the tomatoes, it doesn't shave off that much time 😉 Making meatballs, at least good meatballs, takes time.
I've made tons of meatballs and followed dozens of recipes in the past. But I find Lidia Bastianich's recipe easy to make and uses simple ingredients that produce juicy meatballs. I love watching Lidia Bastianich's show on PBS or the Canadian equivalent of public television. It's just so comforting watching her describe and cook her Italian dishes. When I search for "Lidia Bastianich meatballs", lots of different recipes show up. The recipes are all slightly different but I found this one is the closest to the one I saw on her show.
Spaghetti and meatballs is a comforting dish that I wish I could make more often. It always brings a smile to my kids' faces. When they heard that I was making spaghetti and meatballs, they got so excited and gave me big hugs and kisses. This Memorable Dish is a tribute to my Bubby. This dish definitely describes him to the core. Round (his round face) and comforting. 🙂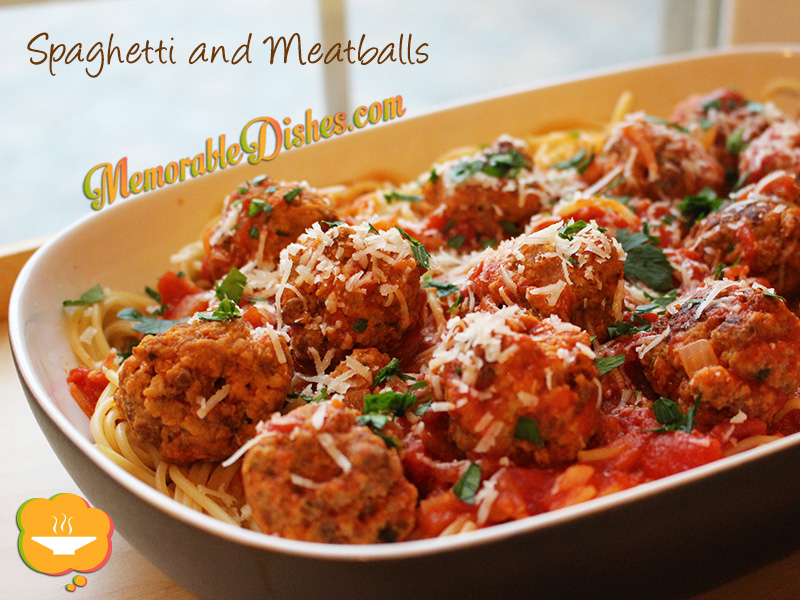 Ingredients
For Meatballs:

1 medium Carrot, coarsely chopped
2 stalks Celery, coarsely chopped
2 medium Onions, coarsely chopped
1 pound ground Beef
1 pound ground Pork
1 pound ground Veal
2 large Eggs, beaten
1/2 cup Parsley, chopped
2 cups Bread Crumbs
1 tbsp Kosher Salt

For Sauce:

1/4 cup extra virgin Olive Oil
1 medium Onion, chopped (about 1 1/2 cups)
2 tsp Kosher Salt, plus more as needed
2 Bay Leaves
1/2 tsp Peperoncino
3 (28-ounce) cans San Marzano Plum Tomatoes, crushed by hands in large bowl
1 pound Spaghetti
Preparation
Preheat the oven to 425°F.
In a food processor, combine the carrot, celery and onion. Pulse to make a fine-textured paste or pestata.
Scrape the pestata into a large bowl and add the remaining meatball ingredients.
Mix well with your hands to combine all of the ingredients.
Roll into golf ball sized meatballs and place on baking sheets approximately 1/2 inch apart. You should fit approximately 24 meatballs on your baking tray. This recipe yields about 4 dozen (48) meatballs.
Bake meatballs until browned all over, about 18 to 20 minutes. The meatballs do not need to be entirely cooked through because they will cook more in the sauce.
While the meatballs are baking, begin the sauce.
In a large pot, heat the olive oil over medium heat.
Add the onion and sauté until softened about 5 minutes.
Add 1 teaspoon of salt and peperoncino. Let the peperoncino toast for a minute.
Add the crushed tomatoes. Slosh out the tomato cans and bowl with 4 cups of hot water and add to the pot.
Add bay leaf and remaining teaspoon of salt.
Bring sauce to a simmer while the meatballs finish baking, about 10 minutes more.
When the meatballs have finished baking, gently add them to the sauce and return to a simmer.
Simmer, shaking the pan periodically to move but not break the meatballs, until sauce is thick and flavourful, about 30 minutes.
Add 1 pound of spaghetti to boiling salted water. When the pasta is al dente, drain with tongs and add directly to half of the sauce.
Toss and serve immediately with some grated Grana Padano or Parmesan cheese.
Top with meatballs and extra sauce to your taste.
Notes
Note #1: You could use two out of the three combination of meats. If you like, substitute ground turkey for one of the meats but be aware that the meatballs might be a little bit drier because it has less fat.
Note #2: The original recipe has 1 teaspoon of ground oregano in it. I omitted it so that I can use my extra meatballs for different recipes.
Note #3: After baking the meatballs, I freeze the extra ones to be used in other recipes.
https://www.memorabledishes.com/spaghetti-and-meatballs/
Recipe by Memorable Dishes | www.memorabledishes.com