I don't exactly remember the first time I had Shepherd's Pie. Growing up in an Asian household, Shepherd's Pie was definitely not a staple. But my adventurous food-loving mother made this Memorable Dish for us at home and we've been loving it ever since.
Shepherd's pie is supposed to be made with ground lamb and cottage pie is supposed to be made with ground beef. But in North America, we use the term shepherd's pie synonymously with cottage pie. This recipe isn't my mom's original recipe (she probably got hers from a friend or magazine). I remember one of my friends who was studying to be a chef was making shepherd's pie while I was at his house. He used cumin and nutmeg and I really liked the taste.
This Memorable Dish is definitely an all-time favourite dish in our household. Everyone loves it. It can be a bit time-consuming to make. To break up the process a bit, I make the mashed potatoes a day before so I don't spend all day making it 😉 .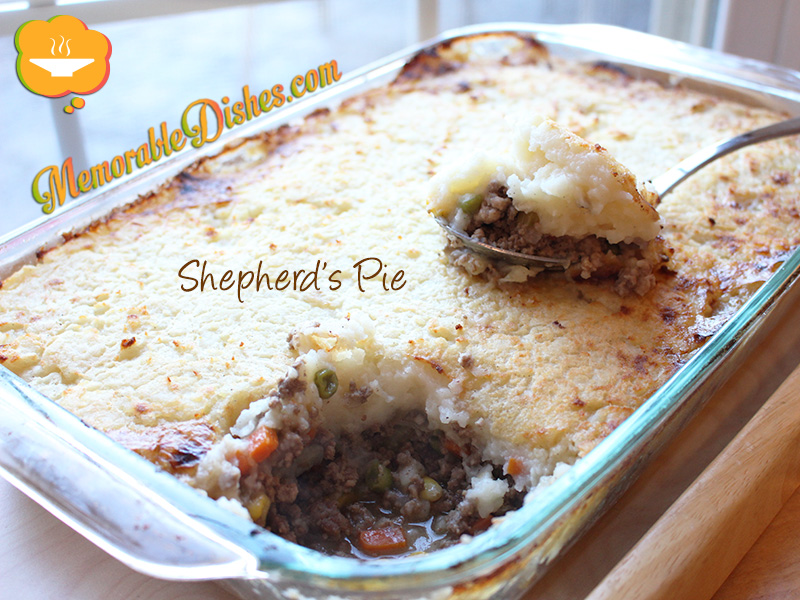 Ingredients
For Potatoes:

4 baking Potatoes (about 3 lbs), cut into 1-inch chunks
2 cloves Garlic, peeled
1 cup milk, warm
1 tbsp butter
Salt for boiling potatoes
Salt & Pepper to taste

For Vegetables:

1 cup Onion, diced (about 1 medium)
4 cloves Garlic, minced
3/4 cup Carrot, diced carrot
2 stalks Celery, diced
1/2 cup frozen Corn
1/2 cup frozen Peas
1 tbsp Extra-virgin Olive Oil

For Meat:

2 1/2 lbs Ground Beef
1/2 tsp Ground Cumin
1/4 tsp Ground Nutmeg
1 tsp Onion Powder
1½ tsp Garlic Powder
1 tsp Kosher salt
2 cups of Beef Stock
1 tbsp All-purpose Flour
1 tbsp Extra-virgin Olive Oil
Preparation
Place potatoes and whole garlic clove in a large pot of salted water. Bring to a boil and cook for about 15 minutes, or until tender. Drain, return to the pot and set aside.
Brown ground beef in a large frying pan with 1 tbsp of olive oil.
Once the meat is brown, scoop it onto a large plate lined with paper towels to drain excess fat.
Heat 1 tbsp of olive oil in the frying pan over medium-high heat. Add the onion and sauté for 5 minutes or until transparent and soft. Scrape the bottom of the pan to remove the yummy bits. (If it's too dry, you can add a bit of water to remove the bits.)
Add the chopped garlic, carrot and celery. Reduce the heat to medium and sauté for 5 minutes.
Return the cooked beef to the vegetable mixture, add the spices (cumin, nutmeg, onion and garlic powder) and 1 tsp of salt.
Add the beef stock, mix and break down the meat with a wooden spoon as much as you can. Cook for approximately 10 minutes.
Add 1 tbsp of flour and stir until thickened. Stir in the corn and peas and turn off heat.
Preheat the oven to 400°F.
Place the pot of drained potatoes over low heat. Add the warm milk and butter. Mash potatoes with a potato masher or hand-held mixer.
Spoon the meat and vegetable mixture into a 13 x 9-inch large baking dish. Spread the potato mixture on top in an even layer.
Bake for 20 minutes, or until the top is golden brown.
Notes
If the pie starts bubbling but the top hasn't browned yet, you can put it under the broiler to be browned for a few minutes.
https://www.memorabledishes.com/shepherds-pie/
Recipe by Memorable Dishes | www.memorabledishes.com