This is a comfort food for lots of people who've grown up in North America. It also happens to be one of my husband's favourite Memorable Dishes made from his paternal grandmother. He's the first to admit that she's not as good of a cook as his maternal grandmother but nonetheless, her beef pot roast brings back sweet childhood memories. Just add a side of corn and you have a perfect meal to suit every kid's taste. Soft tender beef and sweet kernels of corn. He remembers she always used to make corn to go with this dish.
Even though I didn't grow up eating this Memorable Dish, I can feel how comforting eating this pot roast can be. Especially on a chilly day, I crave for hearty and saucy meals. The kids really enjoyed this dish and even my baby girl wanted more of it. I think the tender meaty goodness really ignites her palate and warms up her big belly 🙂
This pot roast might not be the same as my husband's grandmother's recipe, but he definitely enjoyed it. If you want the beef to be more tender, just cook it longer. This is a great leftover dish and tastes even better the next day!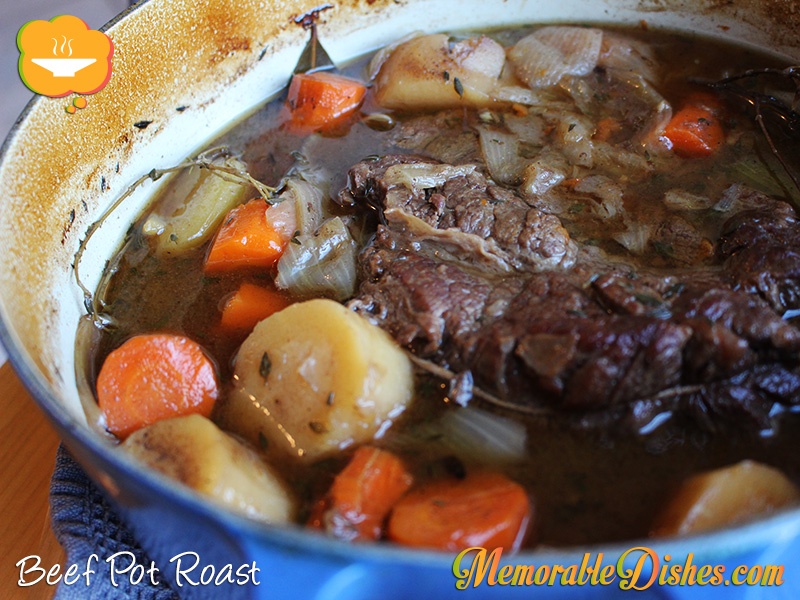 Ingredients
1 Beef Pot Roast (approximately 3 pounds)
2 Onions cut into quarters
4 cloves Garlic, whole
2 Carrots cut into 2-inch pieces
2 Parsnips cut into 2-inch pieces
2 Celery stalks cut into 2-inch pieces
2 large Potatoes cut into large chunks
2-3 sprigs Thyme
1 Bay Leaf
2 tbsp vegetable oil
Salt & Pepper
4 cups Beef Broth
Preparation
Preheat the oven to 325 degrees F.
Pat roast dry and sprinkle it generously with salt and pepper.
Heat oil in Dutch oven and brown all sides of the roast. Set aside.
In the same pot, add onions and garlic.
Deglaze the pot with beef broth and scrape the bottom of the pot.
Put roast back into the pot and add the rest of the vegetables, thyme and bay leaf.
Bring liquid back to a boil.
Taste the broth and add more salt if needed. (Remember the meat and vegetables are going to absorb the salt and if it's not salted enough, it's going to taste bland once it's cooked.)
Cover Dutch oven and bake in the oven for 2 1/2 to 3 hours until beef is tender.
Serve with crusty bread and if you're Asian, serve with rice 🙂
https://www.memorabledishes.com/beef-pot-roast/
Recipe by Memorable Dishes | www.memorabledishes.com