I originally found this Memorable Treat when I was looking for dairy-free desserts for a dinner party I was attending. I love Texanerin.com because of the healthier versions of delicious desserts on their site. I've had desserts which are supposed to be healthier but taste like cardboard. I'd rather skip dessert if it tastes crappy. The whole point of having dessert is to treat ourselves. And because I don't have desserts everyday, when I have one it better be darn good!
These peanut butter chocolate brownies are a great compromise between delicious and healthier brownies because they're made with whole wheat flour and coconut oil. The sugar is on the high side. However, she did mention using honey wouldn't work but you could try using coconut sugar. You can always test it using less sugar to suit your taste.
Now where was I? Yes, my dinner party dessert. I decided on choosing this recipe because my husband loves the peanut butter and chocolate combination and also this recipe is pretty easy to make with ingredients I have on hand already. This is a Memorable Dish times three because within the span of one week, I made this recipe three times! The original one for the dairy-free dessert dinner party. Then the next day, I made another one to bring to a friend's house. And, because my husband complained that I kept making these brownies for our friends and he didn't have enough, I made another batch mid-week just for ourselves. These peanut butter chocolate brownies are not only delicious but easy enough to make three times a week!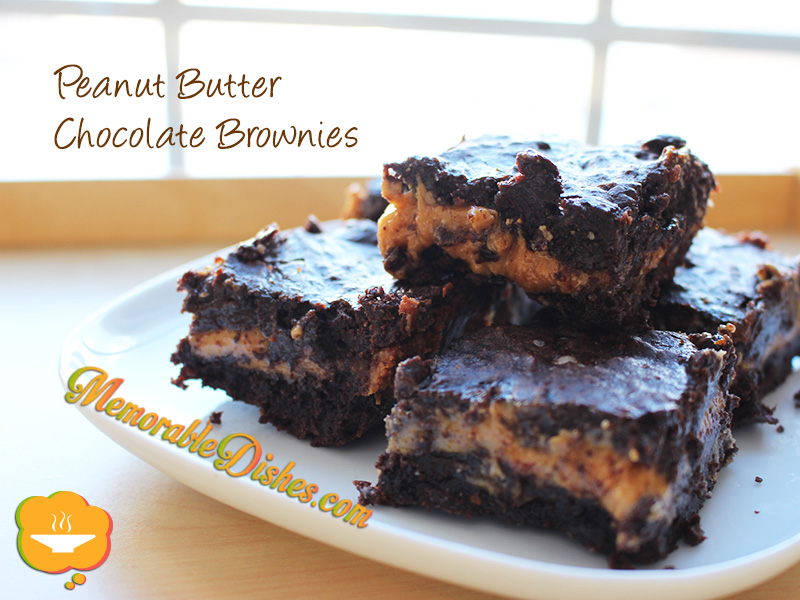 Ingredients
Filling

1 cup salted natural Peanut Butter
1/3 cup Honey
1/4 cup Coconut Oil, room temperature (normal butter works for a non-dairy-free version)

Brownies

1/2 cup Coconut Oil or Olive Oil (or Canola)
1 cup Granulated Sugar or Coconut Sugar
3 large Eggs, room temperature
2 teaspoons Vanilla Extract
3/4 cup Dutch-process cocoa powder
3/4 cup Whole Spelt, Whole Wheat Pastry or Whole Wheat Flour
1/4 tsp Salt
Preparation
Preheat your oven to 350°F. Line an 8" x 8" pan with parchment paper or spray the pan with baking spray.
Combine filling ingredients (peanut butter, honey and coconut oil) and place in fridge while you prepare the brownie batter.
In a medium bowl, stir together the oil and sugar. Add the eggs and vanilla and beat just until combined.
In a small bowl, mix together the cocoa powder, flour and salt. Add the flour mixture to the wet mixture. It will be really thick, but that's okay. Only stir until combined!
Spread half of the batter into the prepared pan. To get the peanut butter filling somewhat evenly into the pan, I rolled the filling into balls and smushed them to make them flat, and then used those to cover the first half of the brownie batter. Cover the peanut butter filling with the rest of the brownie batter. Bake for 20 to 25 minutes.
Take them out when they are set in the middle. The top will be shiny and may look strange but it has nothing to do with how done they are. They should not be the least bit cakey, but really, really fudgy. Both the brownie part and peanut butter part won't appear to be done when you take it out of the oven, but it is.
Let it cool and then put them in the fridge. They will firm up and get fudgy in there.
Notes
https://www.memorabledishes.com/peanut-butter-chocolate-brownies/
Recipe by Memorable Dishes | www.memorabledishes.com