When I saw different flavours of jello such as mango and lychee at the Asian grocery store, it triggered childhood memories of jelly candies my mom used to make for us. She called them jelly candies or jello candies. They're not really candies because they're not actually hard. But we know them here as Jello Jigglers or Knox Blocks.
My mom made these for us, for potlucks she used to host, or to bring to friends' houses. She would cut them into little squares and coat them with shredded coconut. I don't know why she coated them with coconut but I think she found a recipe from a newspaper or magazine from back in the day. They might have suggested that coating jelly candies with coconut makes them extra fancy to serve at parties 😉 .
Even though this is obviously not a fancy Memorable Dish, I remember eating them fondly. My mom also layered the jello in different flavours to make the jelly candy more fun. The effect looks amazing but of course is more time consuming to make. My friend also reminded me that her mom used to make it layered with evaporated milk. I should definitely try to make it that way when I have more time. But I really love the look of the colourful layered jello. It always brings a smile to my face because it reminds me of my mother making it for us when we were kids 😀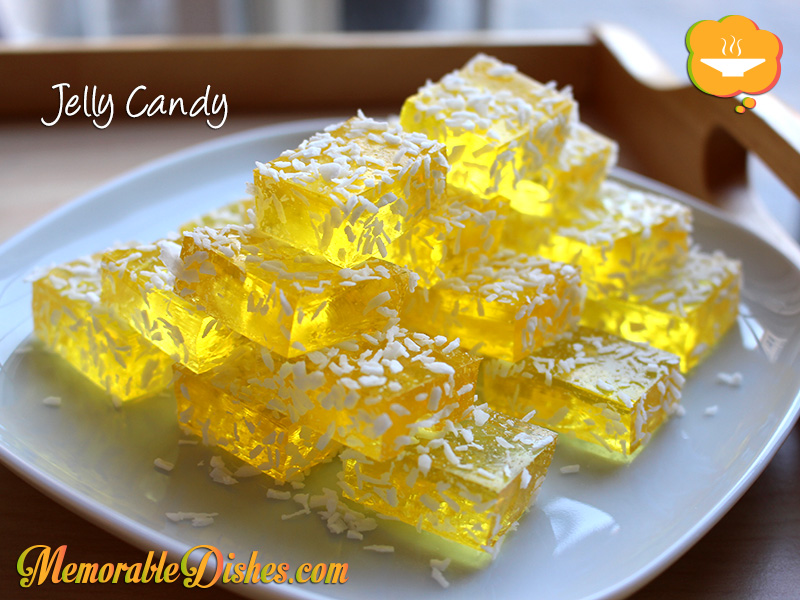 Ingredients
1 box flavoured Jelly Powder (80 grams)
2 envelopes of Gelatin
2 cups Boiling Water
1/4-1/2 cup finely shredded Coconut
Preparation
In a medium bowl, mix jelly powder and gelatin with boiling water.
Stir with spoon or whisk until all the powder is dissolved.
Pour liquid into a 8" x 8" pan.
Put in the fridge to cool it completely.
Cut them into small squares and coat them with shredded coconut.
https://www.memorabledishes.com/jelly-candy/
Recipe by Memorable Dishes | www.memorabledishes.com