When I just had one child, I had all the time in the world—I organized play dates, matched outfits, and made homemade meals all the time. Instead of buying store-bought cookies and treats, I would bake homemade ones. I used to make oatmeal date squares and other treats for my oldest son all the time. I even experimented with making granola "balls". That recipe was very time-consuming and involved rolling hot granola mixture into balls with my hands super speedily so that I didn't burn myself 😛 Now that I have three children, I cannot leisurely bake as much anymore. But I still like to bake them semi-healthy treats as much as possible.
I haven't made this Memorable Dish for awhile. While sifting through my printed recipes, I came across this one. The original recipe I found said to cook the dates with sugar but I found it unnecessary because the dates are sweet enough already. I cut down the amount of sugar from the original recipe to our family's taste because I usually find baked goods recipes super sweet for me.
This oatmeal date squares recipe is fairly easy to make and a great nut-free snack to bring to school. Now with three children, I don't know how long these oatmeal date squares will last! That's why I cut them smaller to make them seem to last longer 😉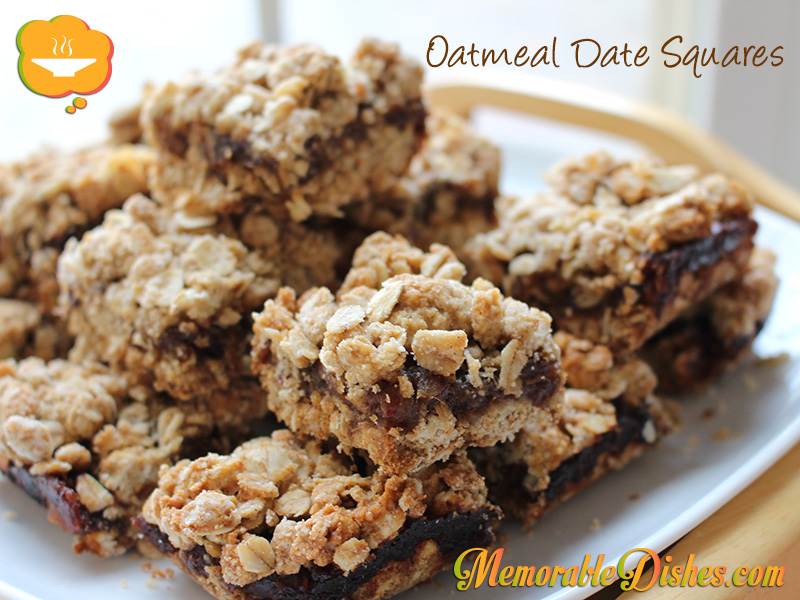 Ingredients
1 1/2 cups pitted Dates, chopped
3/4 cup Water
1 1/2 cups Oats
1 cup All-purpose Flour
1/2 tsp baking soda
1/4 tsp Cinnamon
1/2 cup packed Brown Sugar
1/4 tsp Salt
1/3 cup Butter, melted
1 Egg
Preparation
Position rack in middle of oven. Preheat oven to 350°F.
In a small pot, combine dates and water. Bring the liquid to a boil.
Once the water comes to a boil, turn down heat and uncover pot.
Cook date mixture for approximately 5 minutes or until it's thickened.
Stir and mash up dates while they're cooking. Turn off heat once the liquid has evaporated.
In large bowl, mix oats, flour, baking soda, cinnamon, brown sugar, and salt until combined.
Stir in melted butter and egg until everything is blended.
In a buttered 8-inch square pan, pat half of the oat mixture on the bottom.
Spread the date mixture onto the oat mixture carefully.
Then gently pat the remaining oat mixture over the date mixture.
Bake for 20-30 minutes or until lightly brown.
Cool on a rack and cut into squares.
Notes
If I remember and have time, I bake the squares for 15 minutes and then rotate the pan and bake for another 15 minutes. This helps to cook it evenly.
https://www.memorabledishes.com/oatmeal-date-squares/
Recipe by Memorable Dishes | www.memorabledishes.com