Carrot cake is one of my husband's favourite Memorable Treats. He always wants to eat or make carrot cake. He got this particular recipe from a lady he used to work with. Yes, my husband likes to chat it up with the ladies for sweet treat recipes 😉
He doesn't cook very much but he has a sweet tooth so he likes to bake whenever he can. I remember the first time I witnessed him preparing to bake his carrot cake. He bought all the ingredients and laid everything on the kitchen counter looking like a serious baker. I didn't want to interfere and left him to his own devices. After awhile, I wondered why he took so long to bake the cake. The ingredients and instructions are fairly straightforward. So I peeked in to see what he was up to. Little did I know that he was cracking shells for fresh walnuts! When I saw him cracking walnut shells, I thought to myself, he must've really cared for freshness. Later I learned that he didn't know you could buy shelled walnuts from a pack.
This carrot cake recipe has become my go to recipe. The ingredients are straightforward and the cake always turns out yummy! Now that my husband has become a veteran at carrot cake baking, he uses packaged walnuts. Maybe I shouldn't have said anything and maybe he'd continue to crack fresh walnuts for the carrot cake for extra freshness 😉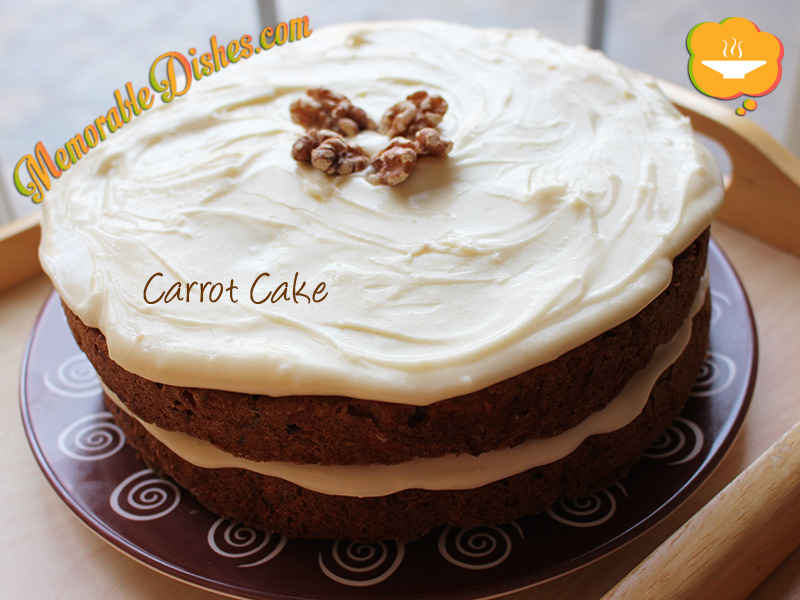 Ingredients
1 cup Butter, softened
1 cup Granulated Sugar
1 cup Packed Brown Sugar
4 Eggs
2 cups All-Purpose Flour
2 tsp Baking Powder
1 tsp Salt
1/2 tsp Baking Soda
2 tsp Cinnamon
1 tsp Nutmeg
3 cups Carrots, grated
1/2 cups Raisins (optional)
1/2 cups Pecans or Walnuts, chopped (optional)

Frosting

1 package of Cream Cheese (250g), softened
3 cups Icing Sugar
1 tsp Vanilla
Preparation
Preheat the oven to 350 degrees F.
Cream butter, white and brown sugars and eggs in large bowl at medium speed with electric mixer until light and creamy.
Combine flour, baking powder, salt, baking soda and spices in separate bowl.
Add the flour mixture to the creamed mixture and mix on low speed just until blended. Stir in remaining ingredients. Mix well.
Spread in cake pan.
Bake for 50 to 60 minutes.
Check if the cake is done by inserting toothpick in the middle of the cake. When it comes out clean, it's done.

For Frosting

Beat cream cheese, icing sugar and vanilla until smooth.
Frost the cake once it's cooled.
Notes
Note #1: I divided the batter into 2 shallow cake pans and cook for lesser time. If you're using shallow cake pans, cook for less time and check
Note #2: I used less icing sugar than the recipe called for. So add enough to your taste.
https://www.memorabledishes.com/carrot-cake/
Recipe by Memorable Dishes | www.memorabledishes.com