Picnic food for Chinese families, at least for our family, is cold noodles. Cold noodles is a relative term because Chinese people like their food super hot. So "cold" noodles can also mean room temperature for us. I remember eating this Memorable Dish at picnics with my family. We would make this simple dish to take along side with my mom's salty poached chicken wings (I'll leave that recipe for another post). It's basically chicken wings that are poached in salty water and perfumed with star anise. These chicken wings can also be served cold, hence another perfect food for picnics.
Ginger scallion cold noodles is also my mother's go-to dish to make when we do our long drives to the States. These cold noodles definitely remind me of summer. Having picnics and BBQs outside with families and friends. I love the combination of ginger and scallions sizzled in hot oil mixed with soy and oyster sauce. This is my favourite sauce of all time. I can just eat the sauce all by itself!
This Memorable Dish is so easy and versatile. You can use any type of noodles you have on hand. This time, I am using fresh store-bought egg noodles. I usually have Chinese wheat or soba noodles in my pantry and use those to make my cold noodles. I remember my mom even used spaghetti when we didn't have any Asian noodles in the house. It turned out just as tasty!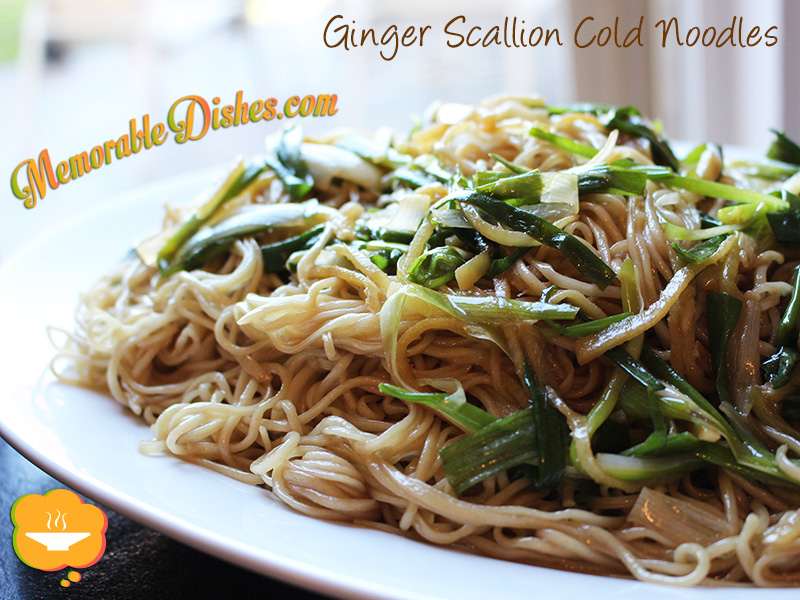 Ingredients
1/2 cup Ginger, julienne
2 cups Scallions, julienne (whites and green separated)
1/4 Cup Vegetable Oil
2 tbsp low sodium Soy Sauce
2 tbsp Oyster Sauce
1 tbsp Sesame Oil
1 lb Noodles
Preparation
Heat oil in a small pot. Test if the oil is hot enough by putting a piece of your ginger in. If it sizzles, put the rest of the ginger in and mix.
Then put the white parts of the scallions in and mix.
Finally put the green parts of the scallions in and mix. Turn off heat.
Put the soy and oyster sauce in and mix. Set aside.
Prepare noodles according to the package. Cook them until al dente.
Drain noodles but do not rinse in cold water.
Put noodles in large bowl and mix with sesame oil to prevent them from sticking.
Then add your ginger, scallions, soy and oyster sauce mixture.
Toss noodles. Serve at room temperature or chill to serve cold.
Notes
Adjust your seasonings according to the type of noodles you use. Depending on the type of noodles used, the sauce adheres to them differently.
https://www.memorabledishes.com/ginger-scallion-cold-noodles/
Recipe by Memorable Dishes | www.memorabledishes.com