Cookies! C is for cookie and it's good enough for me… This song sung by Cookie Monster is in my head more than I would like because my toddler girl is obsessed with her Sesame Street songs. But the cookie monster at my house is not her—it's my husband! He absolutely loves cookies and is constantly hounding me to make them. With the limited time I have writing a food blog post every week, taking care of the kids, working from home, plus cooking meals everyday for my family of five, I cannot possibly be baking cookies everyday! (Believe me, I'm no Martha Stewart   😉 .) However, I would like to create the illusion that I'm a good homemaker so when people come to visit, I greet them wearing a frilly apron serving freshly baked cookies.
That's what happened when I went over to one of my friend's house (minus the frilly apron). She would bake fresh cookies for me on the fly. She says she always has a mixed batch of cookie dough in the fridge. So when people come over she just scoops the dough and bakes a small batch of cookies just enough for the guests to eat. This way she always serves freshly baked cookies! How clever is that?
These cookies made it as a Memorable Dish because absolutely everyone in my family requests them. I've perfected this recipe by combining chocolate chips, toffee bits and walnuts. My mouth waters just thinking about them. I tried making these cookies with just coconut oil to be a little healthier but I found they're just not quite the same. So I compromised by using half butter and half coconut oil and really love the result. Cookies without the buttery taste are just not cookies! I also use half white and half whole wheat flour.
I would like to say that if unexpected guests come to visit they will be lucky enough to get some freshly baked cookies. Technically, I should have a stash of frozen cookie balls waiting to be baked and served. But if my family knows cookie balls are in the freezer, they would pace around the freezer like a bunch of hungry wolves every night waiting for those cookies to be baked. I don't think they would rest until all the cookie dough is gone. Soooo the unexpected guests might not be so lucky to taste this Memorable Treat afterall 😉 .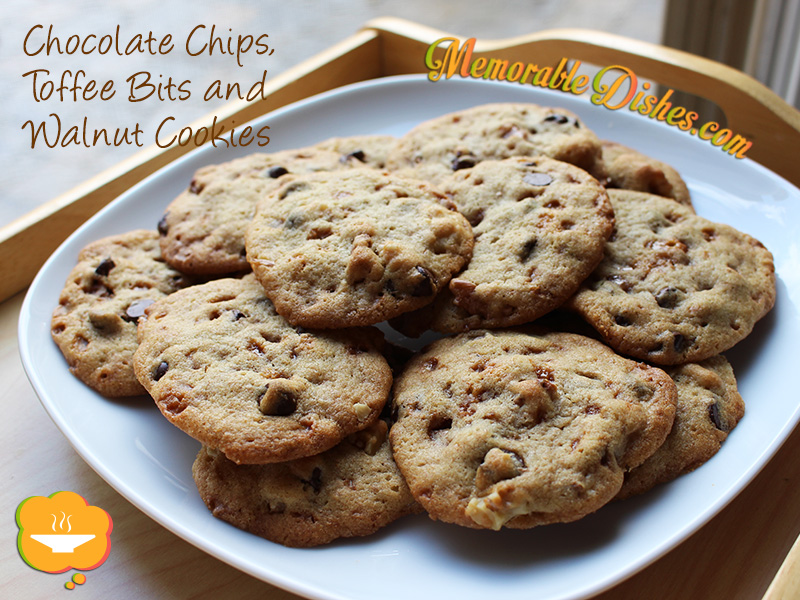 Ingredients
1/2 cup Butter, softened
1/2 cup Coconut oil
1/2 cup Packed Brown Sugar
1/2 cup Granulated Sugar
2 Eggs
1 1/2 tsp Vanilla Extract
1 cup All-purpose Flour
1 cup Whole Wheat Flour
1 tsp Baking soda
1/2 tsp Salt
1 cup Semi-sweet or Dark Chocolate Chips
1 cup Toffee bits
1 cup Chopped Walnuts
Preparation
Heat oven to 375°F.
In a large bowl, beat softened butter, coconut oil, brown sugar and granulated sugar until fluffy.
Beat in eggs and vanilla until creamy.
In a medium bowl, mix together flour, baking soda and salt.
Gradually blend the dry ingredients into the wet ingredients.
Stir in chocolate chips, toffee bits and chopped walnuts.
Drop approximately 1 tablespoon of cookie dough onto ungreased cookie sheet.
Make sure you have enough space in between the cookie dough because it will spread.
Bake 10 to 12 minutes until golden brown.
Notes
Note #1: If you're planning ahead (and if you remember), take the butter out of the refrigerator the night before so that the butter is at room temperature when baking. For best results, eggs should be room temperature too.
Note #2: If you want to make a larger batch to freeze, scoop the dough out into little balls and place them onto a cookie tray. Freeze the dough balls until they are hard. Then put them into freezer bags. When you are ready to eat them, place them on the cookie tray to bake. If you bake them frozen, cook them a little longer. If you defrost them to room temperature, bake them like you would normally would.
https://www.memorabledishes.com/chocolate-chips-toffee-bits-and-walnut-cookies/
Recipe by Memorable Dishes | www.memorabledishes.com