Making Chinese New Year cookies with my mom is a yearly family tradition. We make two types of cookies and Sesame Cookie Balls is one of them. When we were young, my cousins would come over and and we would make an afternoon out of it. The fun and novelty of making these cookies wore off once we were older. However, my mom would still make a small batch every year to be festive.
When the boys were old enough to sit still, we attempted to make these cookies with them. It usually started calmly and they would listen to directions. They really enjoyed shaping and rolling the balls into the sesame. Chaos would start after five minutes of the whole process. Now that the boys are older, they don't really listen to our instructions any more. So we have to make them extra dough for them to play with while we make the cookies ourselves. But they have fun nonetheless.
My mom follows an old recipe that she copied from some magazine or somewhere. She keeps the recipe in her little notebook. However, I find the measurements are a bit off. She uses a Chinese soup spoon to measure so I'm never sure if it's quite right. I found a few recipes online that I think are close to my mom's original recipe. I particularly like this recipe and used it as a guide. Start making this Memorable Treat for Chinese New Year and enjoy your special memories with your family!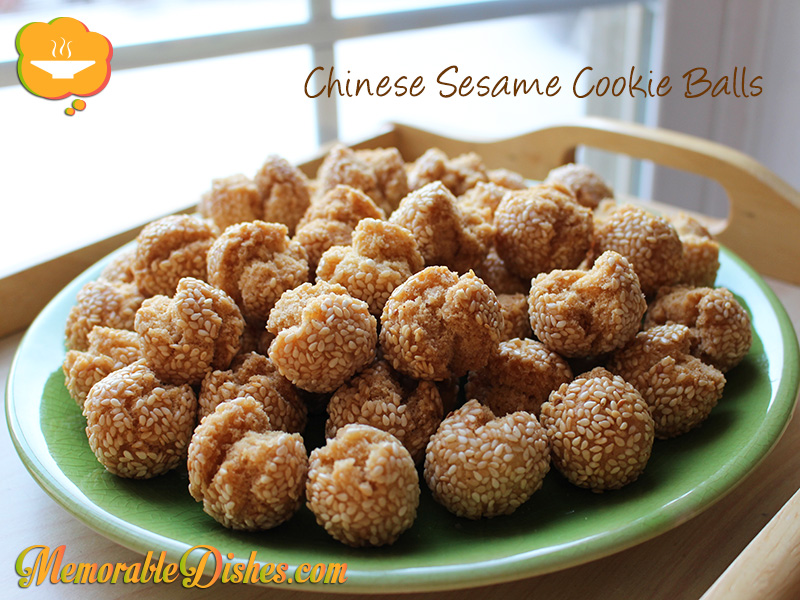 Ingredients
2 cups All-Purpose Flour
1 tsp Baking Powder
½ tsp Baking Soda
1/2 cup Granulated Sugar
3 tbsp Hot Water
3 tbsp Vegetable Oil
1 Egg
3/4 cup Raw White Sesame Seeds
Vegetable oil for frying
Preparation
In a large bowl, mix flour, baking powder and baking soda.
In a small bowl, add 3 tbsp hot water to sugar and stir until dissolved. Allow to cool slightly before adding in 3 tbsp oil, and then the egg. Mix well.
Add the sugar and egg mixture to the flour and stir together. Using your hands, knead the mixture until it forms a dough. Wrap the dough with cling wrap and refrigerate for about 30 mins.
Roll out the dough and cut into small pieces (approx. 1.5 cm) and form them into balls.
In batches, place the balls into a sieve and dip them into cold water briefly. Shake off excess water and roll them in the sesame seeds. Roll them lightly again before frying to ensure the sesame seeds stick to the balls.
Fill a large pot or pan with 2 inches of vegetable oil and heat until hot.
Add the sesame cookie balls into the hot oil and deep fry at a low temperature, about 4 to 5 minutes, turning the balls in the oil as they cook.
If the heat is too high, the exterior will turn brown too quickly and the inside will be soft and raw. Just when they are about to turn golden brown, remove from heat and drain. They will continue to cook further and will crisp up when cooled.
https://www.memorabledishes.com/chinese-sesame-cookie-balls/
Recipe by Memorable Dishes | www.memorabledishes.com