As an inexperienced gardener/farmer, last year I planted zucchinis that happened to overtake my small garden box. This year it was the Chinese fuzzy squash that took over the box. I didn't get a chance to buy anything to plant and yet my garden box was full of crops. Between my father and my father-in-law, they bought me seedlings of tomatoes, cherry tomatoes, cucumbers, basil (which were in separate planters), peppers and Chinese fuzzy squash. I even had a sunflower growing in that box (don't ask me how it got there.)
In that garden box, I got a few cucumbers, a few tomatoes, a fair amount of cherry tomatoes but the peppers never grew. However, the fuzzy squashes just keep on giving. My husband recently picked two ginormous squashes because I could never find them hidden underneath the big leaves. He even said there's another small one growing right now (thanks to our mild weather this fall).
This Memorable Dish is one of my favourite childhood dishes. I remember my mom making it quite a bit. This dish is great for the kiddies because it's brothy, noodle-ly and made with meatballs. What kid doesn't love meatballs! Although they're not too crazy about the squash part of the stew, they hesitantly eat it due to my daily propaganda of the importance of eating vegetables. This Chinese fuzzy squash and pork meatballs stew definitely brings me back warm, fuzzy and cozy memories 🙂 .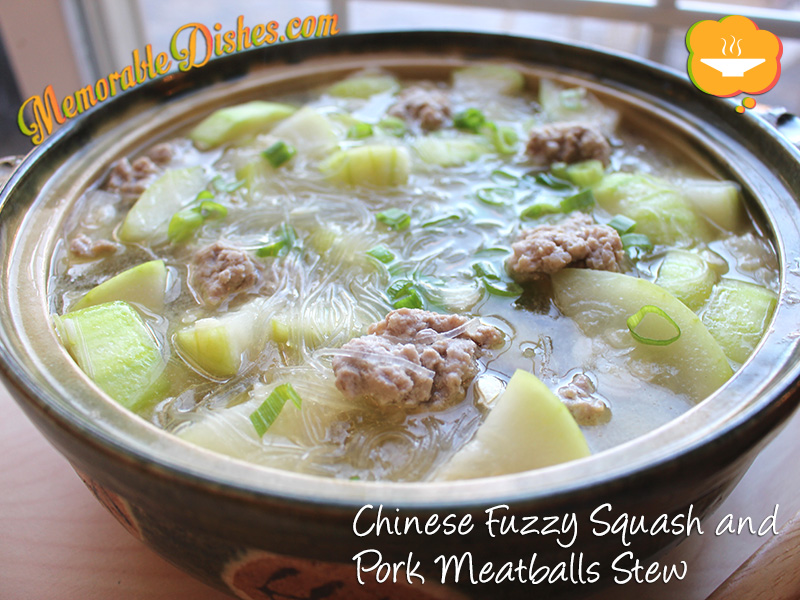 Ingredients
1 1/2 pounds of Ground Pork
1 tbsp of Soy Sauce
1/2 tsp of Salt
1/2 tsp of Sugar
1 tsp of Cornstarch
1/8 tsp of White Pepper
1 tsp of Sesame Oil
2 slices of Ginger
1 Fuzzy Squash, cut into 2-inch, length-wise chunks
2 cups Cellophane Noodles
4 cups of Chicken Broth (add more if needed)
1 tbsp of Oil
1 sliced Green Onion for garnish
Preparation
Marinate pork with soy sauce, salt, sugar, cornstarch, white pepper, sesame oil for at least 30 minutes.
Reconstitute the dry cellophane noodles by soaking them in cold water.
Shape pork into golfball sized meatballs or smaller and set aside.
Heat 1 tbsp of oil in a large pot. Once the pot is heated, put 2 slices of ginger and stir fry along with the fuzzy squash for a bit until you get a bit of colour.
Add the chicken broth and once it's brought to a boil, slowly add the pork meatballs one by one.
Cover and lower heat once the broth boils again.
Cook for approximately 10 minutes until fuzzy squash is tender.
Bring heat back up again and put cellophane noodles in the broth.
Once it's boiled again, turn heat off and garnish with green onions.
Notes
I cook my stew in a Chinese ceramic pot that is great for moving from stove to table 🙂 .
https://www.memorabledishes.com/chinese-fuzzy-squash-and-pork-meatballs-stew/
Recipe by Memorable Dishes | www.memorabledishes.com