I don't claim this to be an authentic Bulgogi recipe because I'm not Korean (although Koreans have mistaken me for one 🙂 ). I don't quite remember how this Memorable Dish became a staple in our Chinese/Macedonian household. Maybe it's because my mom had this Korean food craze where we had Korean meals for Sunday dinners. (She took some Korean cooking lessons at our local Korean grocery store. They were taught in Cantonese to lure Chinese home cooks into experimenting with cooking Korean foods.) Or maybe all the kids love this dish and we just kept on making it because it's so easy. Either way, the whole family adores this Memorable Dish.
You can buy frozen thinly sliced ribeye beef at your local Chinese or Korean grocery store. People usually use this thinly sliced beef for hot pot. If not, you can buy a big piece of ribeye beef and thinly slice it yourself. The tip is to freeze the piece of beef in the freezer until it's a bit hard and you can slice it easier with a sharp knife.
Try this easy bulgogi recipe and make this a Memorable Dish for your family 🙂 .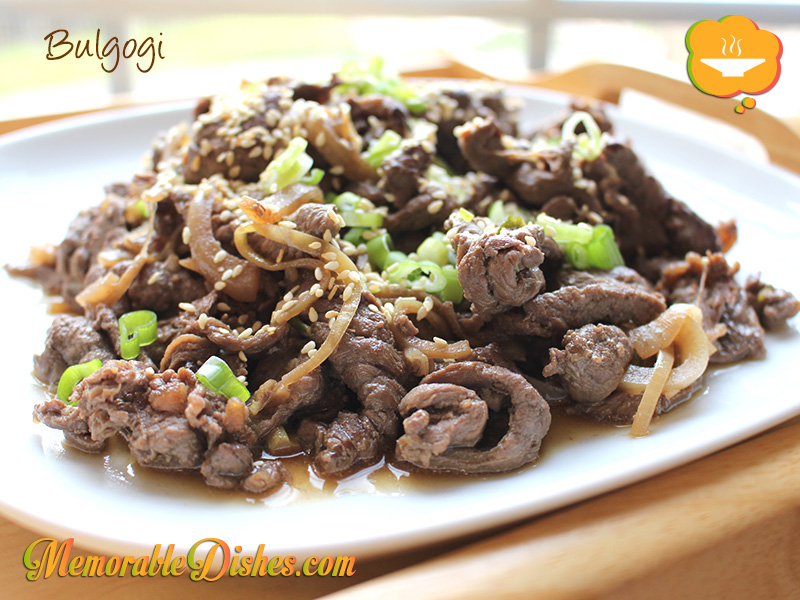 Ingredients
1 pound Ribeye Beef, thinly sliced

Marinade:

2 tbsp Green Onions, sliced
3 tbsp reduced-sodium soy sauce
1 tbsp Honey
1 tbsp Sesame Oil
2 tsp Garlic, minced
2 tsp Ginger, minced
1 tbsp Oil
1 small Onion, sliced
1 Spring Onion, sliced for garnish
Black and/or White Sesame Seeds, toasted
Preparation
Marinate beef with all the marinating ingredients for at least 30 minutes.
Heat oil in a wok or a large frying pan.
Sauté the onions until they are translucent (about 5 minutes).
Add beef to the wok and stir-fry until it's cooked.
Garnish with sliced green onions.
https://www.memorabledishes.com/bulgogi/
Recipe by Memorable Dishes | www.memorabledishes.com