I don't know if it's a Hong Kong British thing but when I was growing up my grandmother used to spread condensed milk on top of white bread for us to eat. We would have it for breakfast or as a snack. Nowadays, it would be considered an unhealthy snack let alone a breakfast for kids! Sweetened condensed milk full of sugar on top of white bread – the horror! I'm surprised my older brother and I weren't bouncing off the walls nor obese despite this fairly frequent indulgence.
I did a quick search online for condensed milk bread and saw that others have created the same treat! Here, the author called it condensed milk toast and got the recipe from Rachel Ray magazine. They both used fancy brioche toast. My grandmother just spread the condensed milk on top of plain soft, fluffy, untoasted white bread bought from an Asian-Western style bakery.
Not only was this condensed milk bread the best thing ever, but my grandmother also created another treat out of the condensed milk. There was no way we could finish a whole can of condensed milk spread on bread in one sitting (or could we? 😉 ) She would pour the leftover can of condensed milk into a glass jar and store it in the fridge. It was impossible to scrape off all the residual thick condensed milk still stuck inside of the can. So my resourceful grandmother put boiling water inside the can and swished it around. And voilà! Condensed milk as a drink! I think I loved this sweetened milk drink more than the bread itself.
This is one of those Memorable Dishes that is so simple yet brings back the fondest of memories. I don't buy condensed milk very often. But every time I see a can of it at the grocery store I think of my grandmother's condensed milk bread and drink.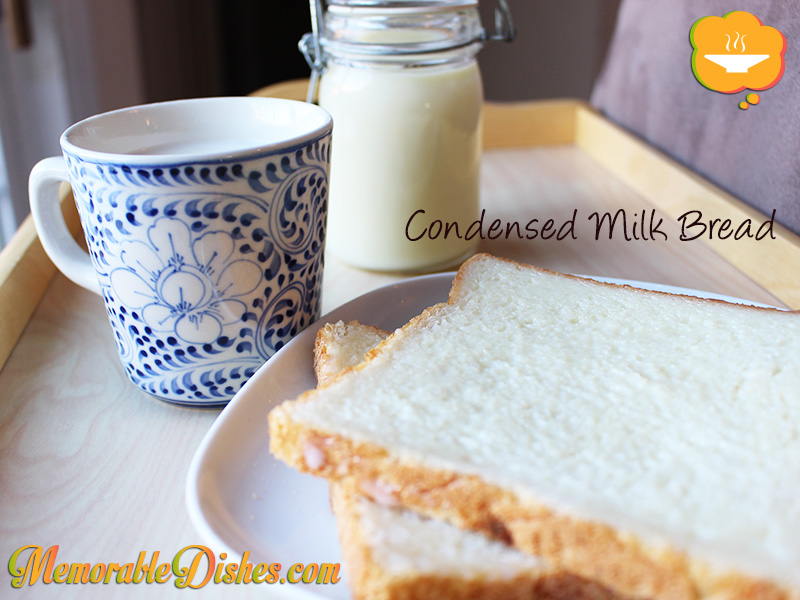 Ingredients
4 slices of White Bread (If possible, get it from an Asian-Western style bakery.)
1 can of Condensed Milk
Preparation
Spread the condensed milk on bread and enjoy!

For Condensed Milk Drink Preparation

Pour leftover condensed milk in a glass jar and refrigerate.
Pour boiled hot/warm water in the condensed milk can, filling half of the can only.
Scrape the sides of the can and stir with a spoon.
Pour diluted milk into a cup and fill the cup with more water.
Add more condensed milk into cup to taste.
Stir and enjoy!
https://www.memorabledishes.com/condensed-milk-bread/
Recipe by Memorable Dishes | www.memorabledishes.com