Baked Pork Chop Rice is a much enjoyed and popular dish at Hong Kong-Western style cafés. Until recently, I didn't know what sauce the cafés used for their baked pork chop rice. Somehow I never questioned where the smooth and pasty tomato sauce that adheres to the top of the pork chops came from. It could be béchamel sauce with tomato paste mixed in? The tomato sauce definitely doesn't taste like the familiar tomato sauce that goes on top of Italian meatballs. I thought about it for a bit but never gave it much more thought.
Somehow when I was perusing down the canned soup aisle…eureka—canned tomato soup! Yes, food thoughts pop into my head when I least expect it. How could I not have figured this out? Based on the taste, texture and colour, they must use canned tomato soup as their sauce! Don't quote me on it, the cafés might very well make their sauce from scratch and use their special secret ingredients. But I figure to make this Memorable Dish at home, it's a great and easy alternative to use canned tomato soup.
This comfort food is enjoyed by many Hong Kongers. Eating out in Hong Kong is the norm because everyone is super busy and food is readily available everywhere. Some cafés deep-fry their pork chops but this homemade version is pan-fried. At the restaurants, they usually use egg fried rice as the base. If it's too much hassle, just use plain steamed rice. Our kids really enjoyed this Memorable Dish at our home Hong Kong-Western style café! I just have to make a Yinyeung (Hong Kong style coffee and tea) to go with it next time 😉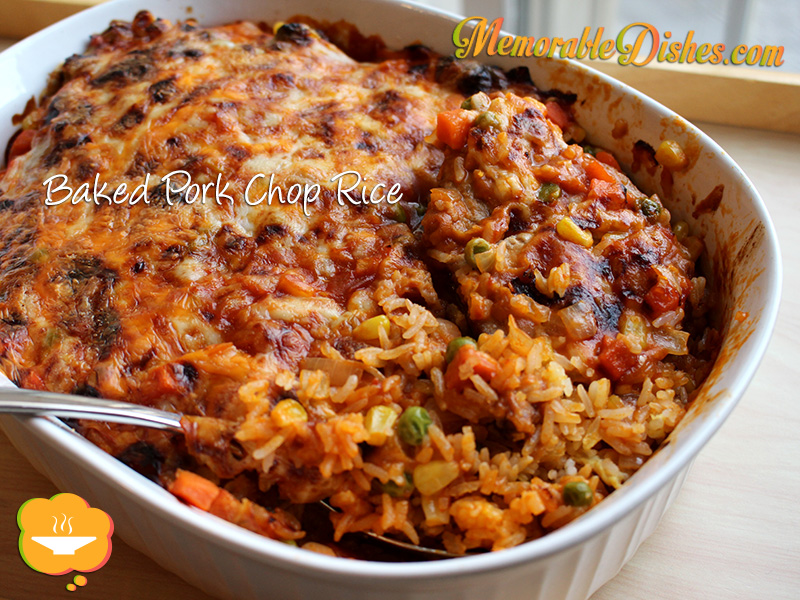 Ingredients
4 pieces of Pork Loin
1 tbsp Soy Sauce
1 tsp Sugar
1 tsp Cornstarch
1 tsp Chinese Cooking Wine (optional)
1/8 tsp White Pepper
1/4 cup Flour
Vegetable Oil (enough to cover your pan 1/4 inch deep)
2 cloves minced Garlic
1 small Onion, diced
1 can of Tomato soup
1-2 cups of frozen Peas, Carrots, Corn (thawed)
5 cups cooked Egg Fried Rice or Plain Rice
1/2 cup Mozzarella Cheese, grated
1/2 cup Cheddar Cheese, grated
Preparation
Use a meat tenderizer or the back of a cleaver to tenderize the pork chops.
Marinate pork chops with soy sauce, sugar, cornstarch, cooking wine and white pepper for at least 30 minutes.
Preheat oven to 400°F before frying pork chops.
Lightly flour both sides of the pork chops.
Heat oil and fry pork chops on each side until brown. Set aside.
Drain all the oil except for 1 tablespoon left in the pan.
Sauté onions for a few minutes then add the garlic.
Pour the can of tomato soup into the onions and use a bit of water to rinse out the rest of the soup in the can.
Mix the vegetables into the sauce and turn off heat.
In a glass or ceramic dish, put rice at the bottom, then the pork chops and then top with the tomato sauce.
Sprinkle with cheese and bake for 20 to 30 minutes depending on how thick your pork chops are.
If your cheese is not brown enough, you can put it under the broiler for a few minutes.
Notes
Make sure the oil is hot before frying pork chops. To test if the oil is hot enough, sprinkle a little flour in it. If it sizzles, then it's hot enough.
https://www.memorabledishes.com/baked-pork-chop-rice/
Recipe by Memorable Dishes | www.memorabledishes.com