I first tasted this Memorable Dish at a summer picnic barbeque at a park with our friends. It's a big group and we try to get together once or twice a year. But it's insane because the group was huge to begin with. And now that almost all of us have children it's even crazier. Mind you, not everyone can make it but it's still a very large group to have hosted at one person's house.
We all bring something to the barbeque to eat and share. Most of us bring hot dogs and hamburgers but when someone brings something different, I get very excited. My friend brought this yummy stir fry paneer dish. Our family loves Indian food so being a curious cook, I asked her what was in it. She told me this super easy recipe and I've been making it ever since. She calls the dish paneer tikka but being Chinese, I call it Stir Fry Paneer Masala because it deviates from the traditional paneer tikka.
Although my oldest son loves Indian food, he's not crazy about paneer which he says is like tofu. My second son loves it because it's like a cheesy tofu, and he just loves tofu. My toddler girl loves everything cheesy. So even though this recipe is a tad spicy, she devours it. Of course both my husband and I love this Memorable Dish. It's always great to discover new easy dishes to make for a weeknight dinner that everybody in the family loves (minus one) 😉 .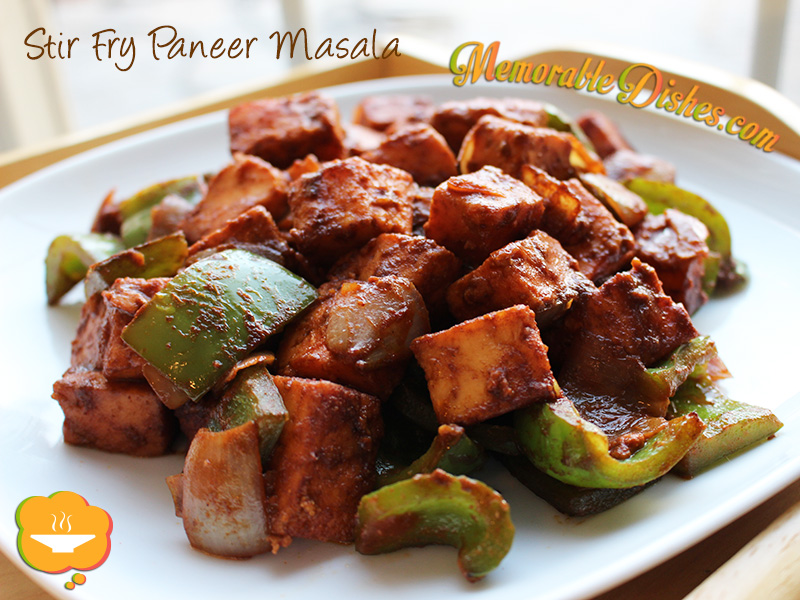 Ingredients
1 400g package Paneer, cut into 1/2 inch cubes
1 tbsp & 1 tsp Tandoori Masala
1 tbsp & 1 tsp Soy Sauce
1 tsp Ketchup
1/4 cup Water
1 tbsp Vegetable Oil
1 Green or Red Pepper, 1 inch pieces
1 small Onion, cut into large dice
Preparation
Marinate paneer with 1 tablespoon soy sauce and 1 tablespoon tandoori masala for at least 1 hour.
Heat wok or large frying pan with vegetable oil.
Fry onions and green peppers until softened but still has a bit of crunch to it.
Add paneer and stir.
Add water and 1 teaspoon of each: tandoori masala, soy sauce, ketchup.
Stir fry until the paneer is warmed through.
https://www.memorabledishes.com/stir-fry-paneer-masala/
Recipe by Memorable Dishes | www.memorabledishes.com