The name of this dish is a misnomer. This dish does not originate from anywhere in Portugal. And curry is definitely not part of Portuguese cuisine. This is actually a Macanese dish that emerged when Portugal colonized Macau. (Macau is about an hour ferry ride west of Hong Kong). This coconut milk-based curry is popular among Hong Kong people because it's not as hot and spicy as other curries. The coconut milk neutralizes the curry and gives it a milder taste.
My husband and I LOVE spicy food! Having young kids means that we cannot indulge this craving very often. So when I make spicy food or curry at home, I always make a non-spicy dish for the kids. Believe it or not, curry chicken has become my oldest son's favourite dish! When he claimed the love for this dish he was around five or six years old. Before that, he went through a time of picky eating where he ate only carbs or things without sauce.
One evening when I made curry, my oldest son actually asked to try it. (At that time, he was still going through his picky phase.) We were shocked at his request and of course didn't want to deter him by saying, "This is too spicy for you!" Instead, we gave him some of our curry chicken, waited anxiously, and were half afraid he would spit it out. But alas, he said, "Yum! I like it!" Our mouths dropped and we gave him some more. That was the beginning of my son's love of curry. He would actually eat it and gulp down water after every bite. He likes it even though it's too spicy for him!
As my son grows older, I hope this will become one of his favourite childhood Memorable Dishes. Every time I make this dish, I think of him and how much he enjoys eating it. One bite of curry chicken. One gulp of water 😛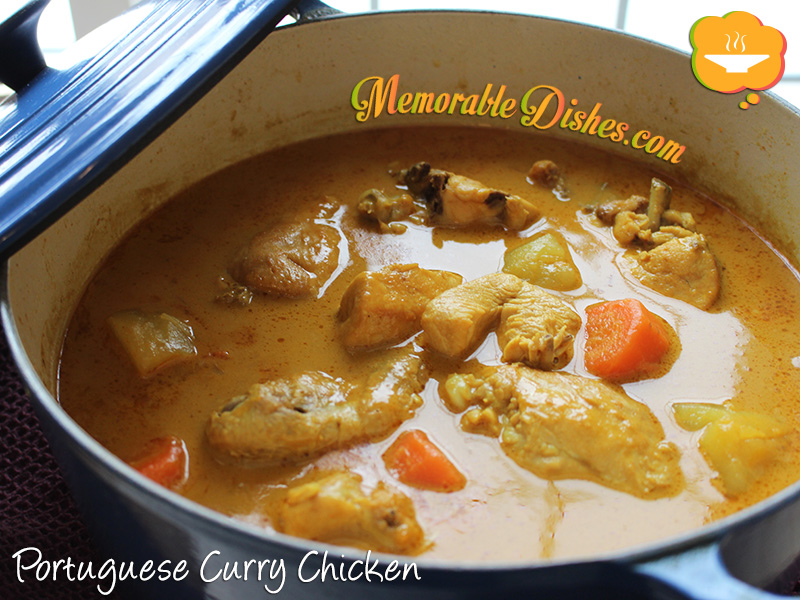 Ingredients
1 Chicken whole (approximately 4 pounds)
1 Onion cut into chunks
4 cloves Garlic minced
2 Carrots cut into chunks
2 large Potatoes cut into chunks
2 tbsp vegetable oil
1 tbsp Kosher Salt
3 tbsp Curry Powder
1 can Coconut Milk (398 mL)
2-3 cups Water
1 Bay Leaf
Preparation
Cut the chicken into serving size pieces and trim any excess fat.
Salt the chicken with half of the salt.
Heat oil in braising pot, such as a Dutch oven and lightly brown chicken. The chicken only needs to be browned a bit and doesn't need to be cooked through. Set aside.
Lower to medium heat. (If there's too much residual oil left from the chicken skin fat, take some oil out.) In the same pot, add onions to brown until they are softened, about 5-10 minutes.
Then add garlic and curry powder and mix.
Pour in coconut milk and water. (You might want to reserve some of the water until you put all the chicken and vegetables into the pot. The liquid should just cover the meat and vegetables.)
Scrape off brown bits that are stuck to the bottom of the pot.
Put the browned chicken, carrots, and potatoes back into the pot.
Once you bring it back to a simmer, lower heat, cover and simmer.
After 20 minutes, stir the chicken and make sure nothing gets stuck to the bottom.
Cook for another 20 minutes.
Serve over a bed of steamed rice if desired.
Notes
Note #1: To avoid added fat, I skin all the chicken before browning it. It's up to your family's preference 🙂
Note #2: If you don't want to use a whole chicken, you can use your favourite chicken parts. Chicken thighs and legs give the most flavour. Chicken breasts tend to be drier. For best results, leave all meats on the bone for stewing.
https://www.memorabledishes.com/portuguese-curry-chicken/
Recipe by Memorable Dishes | www.memorabledishes.com