My kids love eating at food courts inside of Chinese malls. I guess they love eating in any food court for that matter. They get very excited because it's a treat and there are lots of places to choose from. What makes the Chinese food courts unique is the fact that they are all individually-owned. It's a nice break from the franchised restaurants that we are used to at regular malls. It almost feels like we are eating on the streets filled with different food vendors, but in an enclosed and comfortable seating environment.
We often order dishes from different shops so we get to try everything. Since being a parent with young kids, I've ordered foods that the kids would eat, but not necessarily what I like to eat. Just the other evening, I went to the Chinese food court with my kids and my mom. As always, I ordered something the kids wanted to eat – fried noodles. I didn't really want that but ordered it anyways. My mom ended up ordering what I normally like to eat – Peking Duck Noodle Soup. Maybe she wanted to eat that but I got a feeling she ordered it because of me 🙂
This brought back memories of when my mom and I were on a plane ride flying to Hong Kong. I loved that you got to choose between Western or Chinese entrées. For breakfast, there was a choice between congee or omelette. I ordered the omelette and my mom ordered the congee. I took a bite of the omelette and didn't like it. Without a second thought, my mom gave me her congee. (Just so you know, I was a full-grown adult when it happened). I just voiced my dislike for the omelette and she gave me the congee right away!
I do the same for the kids now. I eat their food when they don't finish it or I trade with them if they don't like something. It's like the circle of life or what I'd like to call – the circle of food. Parents always put their kids' needs first no matter how old they are.
Just so you know, I have not attempted to make Peking duck at home. Even if I did, it would not taste the same as the ones you'd find at your typical Chinese BBQ shop. The method, technique, equipment and all that is involved in making a Peking duck is an art form. You can find Peking ducks sold at Chinese BBQ shops, Chinese restaurants that specialize in BBQ, or at select Chinese grocery stores. Once you buy your Peking duck, this dish is super easy to prepare and very comforting to eat.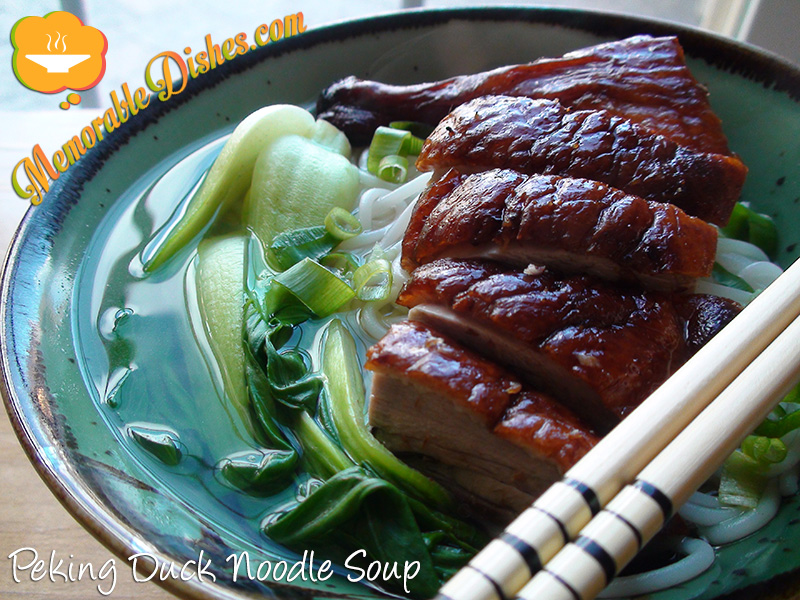 Ingredients
1/2 Roasted Peking Duck*
1 package of Jiang Xi Rice Vermicelli
8 small stalks of Shanghai Bok Choy (Wash and cut in half.)
5 cups of homemade Chicken Stock or store-bought Chicken Broth
2 slices of Ginger
2 cloves of whole Garlic
2 stalks of Green Onion (Use the white part to infuse the broth and thinly slice the green parts as garnish.)
*You can buy ½ or whole roasted Peking ducks at Chinese BBQ shops. Don't forget to ask for extra plum sauce.
Preparation
Boil the vermicelli based on the instructions found on the package.
Drain the vermicelli into a colander and rinse it with cold water.
Put ginger, garlic, white parts of the green onion into the stock/broth and bring it to a boil. (You can take them out after the broth has been infused with these flavours.)
Once the broth is boiled, add the Shanghai bok choy and boil for a minute or so.
Then add the cooked vermicelli.
Once the broth is boiling again. Turn off heat.
Divide up the noodles and bok choy into bowls. Top with broth and sprinkle sliced green onions on the top.
You can place the Peking duck on top of the noodles or you can place them on the side.
Notes
Note #1: If you cannot find Jiang Xi Rice Vermicelli, use whatever rice vermicelli is available at your grocery store. Alternatively, you can always use any type of egg noodles as well.
Note #2: From my package of Jiang Xi Rice Vermicelli, it says to cook for 6-8 minutes. I have to cook them for 10-12 minutes for them to be al dente to soft. Test them out before draining the vermicelli to get the right consistency.
Note #3: If you cannot find Shanghai bok choy, you can use baby bok choy or any type of vegetable that you like.
https://www.memorabledishes.com/peking-duck-noodle-soup/
Recipe by Memorable Dishes | www.memorabledishes.com