I absolutely adore these coconut cupcakes. After watching them on Ina Garten's show, Barefoot Contessa, I HAD to make them. I've made them for my own parties and I've made them to bring over to my friends. Everyone absolutely loves these cupcakes! When I first saw them on Ina's show, I couldn't find the recipe online so I purchased her cookbook. But I've since found her recipe on the Food Network's site. I love that the recipe makes so many cupcakes that you can always save a few for yourself. 😉
When I eat this Memorable Treat, I picture myself sitting at a Paris café, having a café au lait (I know the French drink this for breakfast but it's my fantasy so I'm having it with my afternoon cupcake 🙂 .) and devouring this giant coconut cupcake in large bites. Then reality hits and one or all of my kids are nearby and I have to share my cupcake with them. The giant cupcake that I was supposed to have for myself diminishes into mere crumbs after each child takes a bite. They must have radar to sense that I'm eating something sweet and decadent.
These cupcakes are actually a great holiday treat! The creamy icing with shredded coconut reminds me of snow-capped houses. After baking them, I can't wait for them to cool off. So I usually end up eating one without the icing. Yum!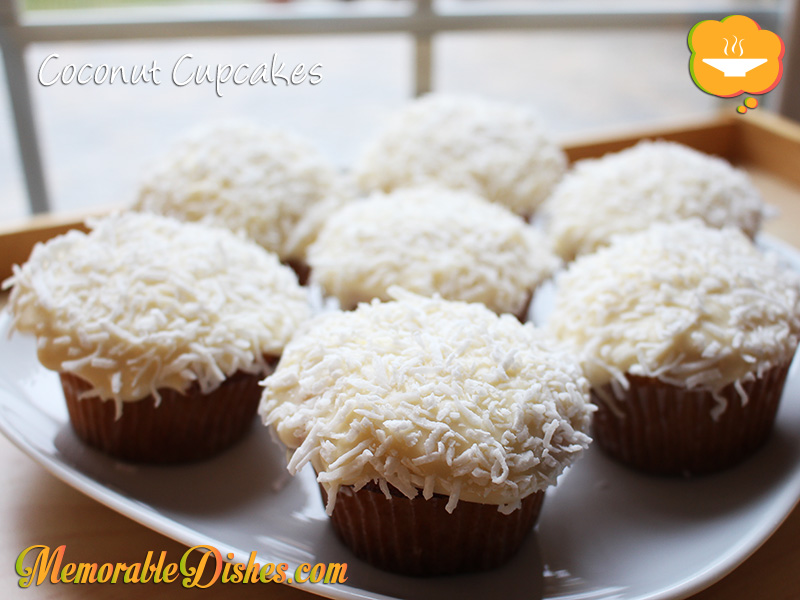 Ingredients
3/4 pound (3 sticks) unsalted butter, room temperature
2 cups sugar
5 extra-large eggs at room temperature
1 1/2 teaspoons pure vanilla extract
1 1/2 teaspoons pure almond extract
3 cups flour
1 teaspoon baking powder
1/2 teaspoon baking soda
1/2 teaspoon kosher salt
1 cup buttermilk
14 ounces sweetened, shredded coconut

For cream cheese frosting:

1 pound cream cheese at room temperature
3/4 pound (3 sticks) unsalted butter, room temperature
1 teaspoon pure vanilla extract
1/2 teaspoon pure almond extract
1 1/2 pounds confectioners' sugar, sifted
Preparation
Preheat the oven to 325 degrees F.
In the bowl of an electric mixer fitted with the paddle attachment, cream the butter and sugar on high speed until light and fluffy, about 5 minutes.
With the mixer on low speed, add the eggs, 1 at a time, scraping down the bowl after each addition.
Add the vanilla and almond extracts and mix well.
In a separate bowl, sift together the flour, baking powder, baking soda, and salt.
In 3 parts, alternately add the dry ingredients and the buttermilk to the batter, beginning and ending with the dry. Mix until just combined. Fold in 7 ounces of coconut.
Line a muffin pan with paper liners. Fill each liner to the top with batter.
Bake for 25 to 35 minutes, until the tops are brown and a toothpick comes out clean. Allow to cool in the pan for 15 minutes. Remove to a baking rack and cool completely.
Meanwhile, make the frosting. In the bowl of an electric mixer fitted with the paddle attachment, on low speed, cream together the cream cheese, butter, and vanilla and almond extracts.
Add the confectioners' sugar and mix until smooth.
Frost with cream cheese frosting and sprinkle with the remaining coconut.
Notes
Note #1: I used unsweetened coconut because I find that everything else is sweet enough.
Note #2: You can divide the batter to make 24 regular size cupcakes.
Note #3: I also used less icing sugar than the recipe called for. So add enough to your taste.
Recipe courtesy of The Barefoot Contessa Cookbook, 1999 All Rights Reserved Read more at: Foodnetwork.com
https://www.memorabledishes.com/coconut-cupcakes/
Recipe by Memorable Dishes | www.memorabledishes.com