One of the most comforting foods to eat is Chinese barbecue with steamed rice. Roasted Peking duck, Chinese crispy pork, and of course, Chinese BBQ pork. If you live in areas where Chinese BBQ shops are readily available, you're in for a treat. The BBQ shops hang whole pigs, ducks, chickens, squid, and sausages. They also sell other animal parts that might be tasty to some, but to others, maybe not so yum. I find all Chinese BBQ foods delicious nonetheless :d
My mom makes homemade Chinese BBQ pork at home often. She got the original recipe from my uncle who is a professional chef. In the recipe, the ingredient amount is very high because it is used for restaurants. Also, it uses Chinese units of measurement and a hassle to translate to our measurements. For example, it would say one Chinese pound of hoisin sauce or something like that. So my mom translates one Chinese pound to one tablespoon for home use.
I concocted this Memorable Dish based on my uncle's recipe and others that I found. I also altered it a bit to suit my own taste. It is fairly easy to make once you find all the sauces at your local Asian supermarket. Even though this is comfort food for me, it can also be a great dish to make for a dinner party or potluck. When people ask if you bought it from the Chinese barbecue shop, you can proudly tell them it's from your own home bbq shop! Maybe you can even trick them by putting it in a takeout container 😉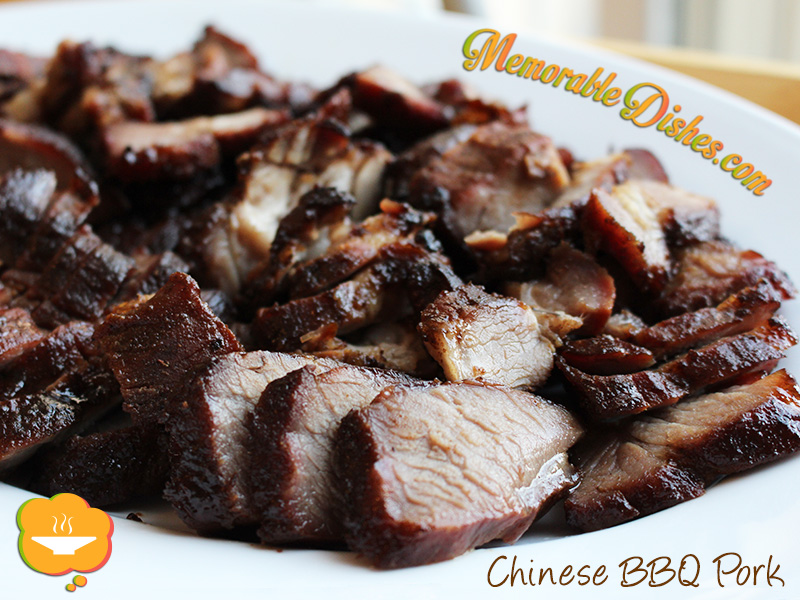 Ingredients
2 lbs Pork Butt (Shoulder)
1/2 cup Soy Sauce
2 tbsp Hoisin Sauce
1 tbsp Ground Bean Sauce (磨豉醬)
1 tbsp Chinese Sesame Paste
1 tbsp Shaoxing Wine or Cooking Wine
1 tsp Five Spice Powder
1 tbsp Sugar
3 tbsp Honey
Preparation
Cut pork into 3 to 4 long pieces.
Mix all the marinate ingredients with a whisk in a large bowl and marinate pork for at least 4 hours or overnight.
Preheat oven to 350°F.
Take pork pieces out of marinade and place them on roasting pan to roast.
In the meantime, bring remaining marinade to a boil in a small pot and set aside.
After you roast the pork for 30 minutes, baste and flip the meat.
Roast for another 30 minutes and it should be ready.
If you want to brown the meat a bit, broil the pork for a few minutes. Make sure you keep an eye on it so you don't burn it.
Take it out of the oven and set aside for 5 minutes before cutting into 1/4 inch thick slices.
Use leftover marinade as dipping sauce.
Serve over steamed rice or soup noodles.
Notes
Chinese Sesame Paste is very thick and topped with oil. So when scooping it out of the jar, try not to scoop too much of the oil.
https://www.memorabledishes.com/chinese-bbq-pork/
Recipe by Memorable Dishes | www.memorabledishes.com