As the weather is getting cooler, I crave for a bowl of hot ramen noodles. Ramen noodles – not the fancy kind you eat at Japanese restaurants where they brew the broth with pork bone and meat for hours. But the instant kind. Every Asian household always has instant ramen noodles stocked up in their pantry at all times. Thus, instant ramen noodles should be a Memorable Dish for all Asians.
Instant ramen noodles is a comfort food to many Asians growing up. We know it's not the healthiest thing on earth but we just love it. Asians don't just eat the plain ramen noodles right out of a package but have extra add-ons to make the noodles extra yummy. Plus, if you are making them for your friends and family, it creates the illusion that you made some effort in cooking this dish and not just boiling instant noodles.
I personally blanch the noodles and rinse it with cold water and then reheat the noodles with the broth. If you don't want to do that, just cook the ramen according to the package. I happen to have some of my homemade leftover Chinese BBQ Pork so I put that, veggies and a fried egg as my toppings. Put your favourite ingredients on your ramen and enjoy!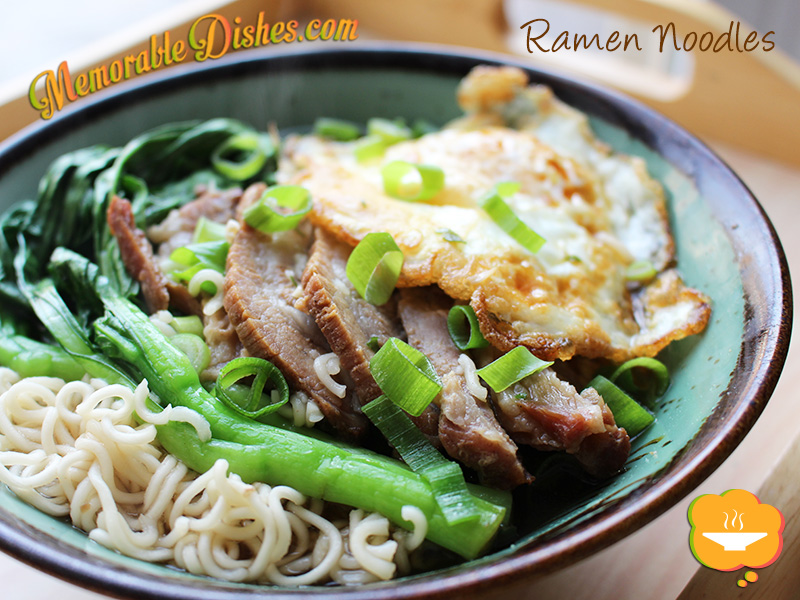 Ingredients
1 pack instant Ramen
Slices of leftover or fresh meat (chicken, beef, pork, etc.)
Fresh Vegetables
Fried Egg
Slices of Scallions (optional)
Preparation
Boil the ramen according to the package.
Top with cooked meat, vegetables, fried egg, scallions or any desired topping.
Eat and enjoy!
http://www.memorabledishes.com/ramen-noodles/
Recipe by Memorable Dishes | www.memorabledishes.com